The Pennine Barrier starts it's journey in the little village of Malham.
Malham may well be renowned for its beauty but much more practically it has a pub, a campsite and a little tiny bridge lit up with fairy lights! Aside from the practicalities it's a beautifully idyllic place which hosts one of the most scenic races in the GB Ultras calendar and an absolute must for any runner wanting to physically and mentally pit themselves against the 'terrible triplets' (the name I've so fittingly given the Yorkshire 3 Peaks).
Waking up at 4:30am as the sun rises over the Yorkshire dales is definitely one of life's little perks. Now when you combine that with the company of two hundred or so other ultra athletes, well now that it just a privilege. But this, my friends marks the start of one long brilliant day. Make no mistake that this race is not for the faint hearted, it will challenge you! But what the hell, isn't that why we choose to be ultra runners in the first place? So we can spend our free time running, scrambling, swearing and laughing? Oh yes, I guarantee this is the race of your dreams and fits the bill for any ultra runner.
The race takes off from the early morning dew dripped field in Malham and within a mile or so takes a sharp ascent up the steps (Yes, you read right. STEPS!) to breach the top of Malham Cove. Whilst you're stumbling up the steps and gasping for breath, trying to squeeze out sentences like 'who the fudge put stairs here', it's worthwhile taking a look over your shoulder at what I can only explain as one of the most breathtaking views I've ever seen. I mean, I've seen some lovely views but this is unbelievable! You will not be disappointed.
Once at the top of the cove a natural epidemic of fractured rocks awaits your presence. These rocks look fantastic but scare the living daylights out of me. I mean, who knows where the rock cracks lead if you fall down one – And yes, I'm sure I would quite easily fit into some of them, they're huge! I sometimes imagine myself as that guy who had to chop his own arm off when he was out cycling because he got stuck. Except it would probably be my foot because that's the bit that would get stuck first and then how would I get back to the start with a hacked off foot… maybe ride a cow back down? There's plenty of those around I suppose. Also, some of those rocks wobble, makes me think one of them is going to fall away under my feet, I've digressed. Have I put you off?? Didn't think so. I do love them really, it's like something out of a fairy tale, you'll need to watch your step but it is loads of fun even if a bit creepy.
Hopping the rocks doesn't take long and once you round the bend (as if we're not already round the bend!) you cut through the ravine and then guess what, more steps, yay! Well not exactly steps, it's more like mother nature decided to club together with stenna to create some crazy set of stairs made of rock, but anyway we love steps don't we. At least that's what you'll be telling yourself at this point, it's like a mantra in your head 'I love steps', 'I'm a step master' and so on. But again, once you've scrambled to the top take a look behind you. It's a magnificent view and if you're lucky you might get to see some climbers scaling the sides of the cliffs. Oh and watch out for the strategically placed photographer near the top or you'll have a race photo momento that is only useful to hang on your front door at Halloween.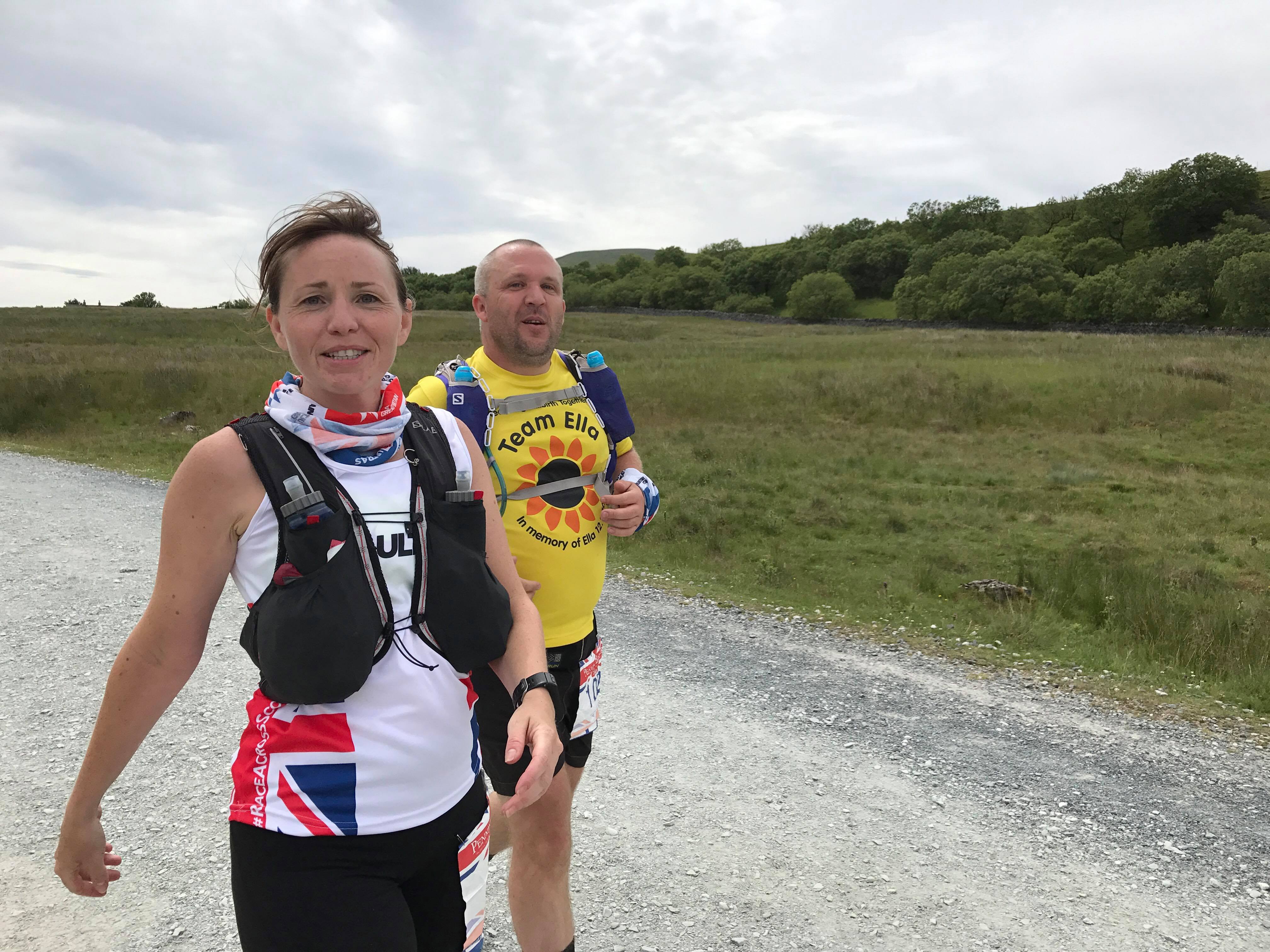 The next few miles are very pretty, running through Malham tarn (looks like a reservoir), past lots of livestock – some with huge horns who look at you like you've just woke them up from a long nap, quietly annoyed and rolling their eyes. There's sheep and lambs (because it's lambing seasons there's loads of them, little cuties) and farms and fields all spread out merging into the pennine way. As you slowly begin to climb to the top of 'the hill' (I say hill because it is compared to the triplets although once you get to the top you'll realise I'm lying) from mile 6ish you'll start to follow the Pennine Way markers and path right to the top, heavy legs and heart pounding, your reward? Well, it's a spectacularly speedy downhill. Don't get me wrong, it's technical and at times tries to kill you but if you love a good downhill it's marvellous.
Getting to the bottom of 'the hill' is a massive achievement in itself and almost marks the end of the first leg and arrival at checkpoint 1. Get in!! 10 miles in the bank!
Notes:
1 – Trail shoes are good for this race but take care as you'll have less grip on the slippery rocks, I prefer a light trail shoe.
2 – If it's claggy (misty) the Pennine Way can close in on you with visibility of 2 metres. If this worries you tag along with some others and enjoy the eeriness (Don't read Stephen Kings 'The Fog' though before the race)
3 – 'The hill' climb is deceiving, long and slow. It will take a lot out of you without you realising so fuel up along the way.
4 – Don't forget to look around you. This first leg has some of the best views. You won't want to miss them.
Following departure from checkpoint 1 the next challenge is the climb up sister number 1, Pen y Ghent. Not too technical, I'd say a 4/10 and if it's a clear day the view at about half way up the climb is spectacular. If it's not, then it can be a bit grim with not much to see at all. Pen y Ghent has to be my favourite triplet. She's so much fun. She loves runners, she's accommodating and she really wants you to climb her. She gives you an amazing descent which feel like it lasts forever and once at the bottom another glance over your shoulder will give you a massive sense of achievement as you realise what you've just taken on. It really is the best of the triplets. I always feel like she's giving me a little cheer as I go up one side and down the other. Simply brilliant.
Now leaving Pen y Ghent behind, you have a few miles of undulating terrain to the next checkpoint, again following the waymarkers and additional Race markings. There's usually plenty of walkers on route who give you a little cheer along the way but watch out for walkers with poles. They must forget they're holding poles or that other people might be about to pass them. I nearly got taken out twice last year by walkers with poles, needless to say I was a bit annoyed and let them know. One almost skewered me, divvies!
As you continue onward through checkpoint 2 you're greeted by sister number 2, Whernside. The highest of the triplets! Not a technical ascent, most of it has slabs laid down so terrain wise it's good, firm underfoot but it's long! A Long long long ascent. It goes on for forever! Doesn't really feel like it flattens out anywhere until you get to the top. And if it's windy, well then watch out because there is a good possibility you'll get blown about.  Now unlike sister number 1 Whernside is a grumpy mare, it's not that she dislikes runners it's more like we're an inconvenience to her. She's a bit moody and I think she made the ascent long on purpose so you won't bother climbing her and she can spend the day lazing around. Well how wrong was she because we will still climb her won't we?! Because we can, can't we?! On your way up take a glance down and to the right you'll see what I call The weather map. Remember Good Morning when it was hosted from the Albert Dock and that guy used to do the weather from the little map in the water. Well I swear they moved that map and put it at the bottom of Whernside, it's cool!
Now you'd think at this point, when you reach the top she'd be like 'oh yeah, well in, here's a lovely descent for your efforts'. Well think again because it's a trick! You start the descent thinking this is good, then quite quickly that thought turns into 'ohhhhh my'. There's a little bit near the bottom that's quite scary in the dark, or the wet, or the mist or even perfect sunshiny daylight. It's thigh burning! Lowering yourself onto each rock with any kind of delicate form is way worse than a thigh busting climb, I have all the grace of an elephant with a migraine. We practice running up hill don't we, not down. If you want to teach sister number 2 a lesson get some practice in because by the time you get to the bottom of here jelly legs are about 68% likely. I tell you what the best thing is about sister 2 though, once you've descended and you're on your way to sister 3 there's a farm barn which is open selling ice lollies, cold drinks and nice goodies. It's brill and if it's a hot day I promise you the thought of a lolly ice after what that grumpy mare has put you through is a small piece of heaven. While your loving life glugging down a cold cola you can take a look back at the mammoth task you've just taken on and beaten, 'In your face Whernside, We won!'.
Leaving the lovely treats behind, you head towards the last sister, Ingleborough. Before you get there you'll pass a pub (always a good opportunity to carb up) and the next checkpoint (more treats). I think the pub and checkpoint are strategically placed here because everyone secretly knows that sister number 3 is going to require every ounce of grit you have. This sister is nothing like the other 2, this one is nasty and evil. She does not like anyone and given half a chance she will try and take you out at any opportunity. She's just wicked! From the long slog of an ascent just to get to the bottom of her, to the lung busting scrambly climb, she's out to get you all the way. Although there's an odd bit on your way to triplet 3 by the big sinkhole (you'll see what I mean when you're out there) where I always get a phone signal and my lovely messages come through from friends and family on Race day expressing support or more likely offering a little kick up the backside.
Now I can excuse you for thinking Sister 3 can't be that bad, she looks kind of ok but, let me tell you, she is. She sneakily hides nettles in places they shouldn't grow with a sting like I've never felt, the sheep perched on her side are placed just at the right points so they can mock your efforts as you climb and the actual ascent allows for approximately zero rest until you hit the top. When your 2/3rd's of the way up she then goads you into carrying on by providing you with a little stream full of lovely, cold naturally filtered water. It's delicious and I always stop to fill up my bottles here and while I do this I quietly whisper to her 'please let me back down in one piece, please don't try to kill me, I love you really, you're the best triplet'. She seldom listens (don't tell her I said that pleaseeeee).
Now you think the climb is tough (I'd go 7 almost 8/10) but that's nothing compared to descending her.  She's relentless. Rocks are ready in waiting to catch your ankles out or trip you up and that's when you can actually run. Some parts I descend on my bottom, not a particularly graceful method I'll give you, but so far I'm still alive so I'm going with what works. I've gotten over the fact that running down her is never going to happen for me so I jog, tiptoe and bumble my way down with the delicacy and grace of a giraffe in roller skates. I've climbed Ingleborough maybe 10 times in the past 18 months and every single time shes had a go at me. Whether I've been alone or not, Sunny or not. She's out to get me! I've fallen over, twisted an ankle, my pal got lost at the summit then fell and tore open the skin on her knees, the wind has almost blown me over and I've been scorched by the sun and ran out of water. Do not underestimate this triplet, she's mean.
When you finally reach the bottom it's a fairly long way from sister 3 to the next checkpoint (it isn't really, a few miles but feels longer) and along this route you'll see way markers with little dots on, I like to say hello to the dots. It's kind of like my way of saying 'I'm here, Ingleborough didn't kill me' beware though, if the suns out it's like a oven along these paths. One day I had to put my jacket on just to stop the sun from burning a hole in my body, I looked like I'd been swimming I was sweating so badly. Talking of swimming, on these hot days I really look forward to getting to see the swimming pool (Yep, swimming pool) the first time I saw it I thought it was a mirage. A glistening clear blue pool of water that whispers my name in the wind. I tell myself that one day I'll go over and cool off and I'm sure there'll be a waiter with mojitos waiting for me. Heaven! The reality is, I don't know what this pool is, probably radioactive slime from Ingleborough's soul! But it looks amazing, it'll be on your right (or should be) about 2 miles before checkpoint 4. Anyway, the point is when you see this pool you're not far from the checkpoint, woohoo! (Disclaimer, I'm not sure how far not far is so don't come hunting me down if it's like 4 miles or something).
Just when you start to think you're never going to get to the checkpoint you breach the top of a little hill and voila! You'll see the train station and the town and that means you've made it (in one piece hopefully) to the next checkpoint. A mahoosive congratulations awaits you from the GB Ultras Team of Marshal's at this point.
Notes:
1 – I would recommend filling your water bottles near the top of Ingleborough. On a nice day it's ridiculous how much you'll drink before you get to the next checkpoint, plus it makes you feel hardcore, like Bear Grylls.
2 – Whernside ascent is a killer, fuel on the way up so you have enough energy to take on a tricky descent.
3 – Don't worry if you bonk (feel like you're done) at any point in the miles between the triplets, they're tough! Instead of quitting, THINK… did you fuel? did you drink? It's likely that one of these will be the reason why you feel poor so move to a gentle stroll for a mile or so and load back up. You've got this!
4 – Watch out for the walkers (again), they're a lovely bunch really and very cheery but some of the paths up or down can narrow meaning you may need to slow down and fall in line here n there. Remember, you'll make the time up on the descent, and besides they have as much right to be on the trails as you, so be cool.
Leaving checkpoint 4 you'll pass through the village of Horton-in-Ribblesdale and more importantly the famous Pen y Ghent Cafe (currently closed/ownership changing hands). This is the place where people Register for their 3 peaks attempt and is a chance for you to grab a bite to eat (if you have time) or a brew. I crave a good brew during Ultras, no idea why. Don't drink the stuff usually but come Race Day I'm all about a good cuppa. Moving on… you'll take a left turn not long after the cafe and head up (yes up, again!) and as you take the path through the welcoming shade of the trees perched on the side of a tiny stream, a little glance up and you'll recognise a familiar friend, sister 1 (Pen y Ghent). The first time I ran this event my heart sank, I thought 'Have I gotta go back up there', but you don't, phew! Instead you have a lovely long hill to conquer, this one will test the power of your calves, lungs, and spirit but hey, at least you're not climbing another peak.
As you get to the way marker on the shoulder of Pen Y Ghent which directs you to the path straight up Pen y Ghent you can give yourself a little cheer and head off in the opposite direction feeling all smug. This feels amazing, never underestimate the simple things in life.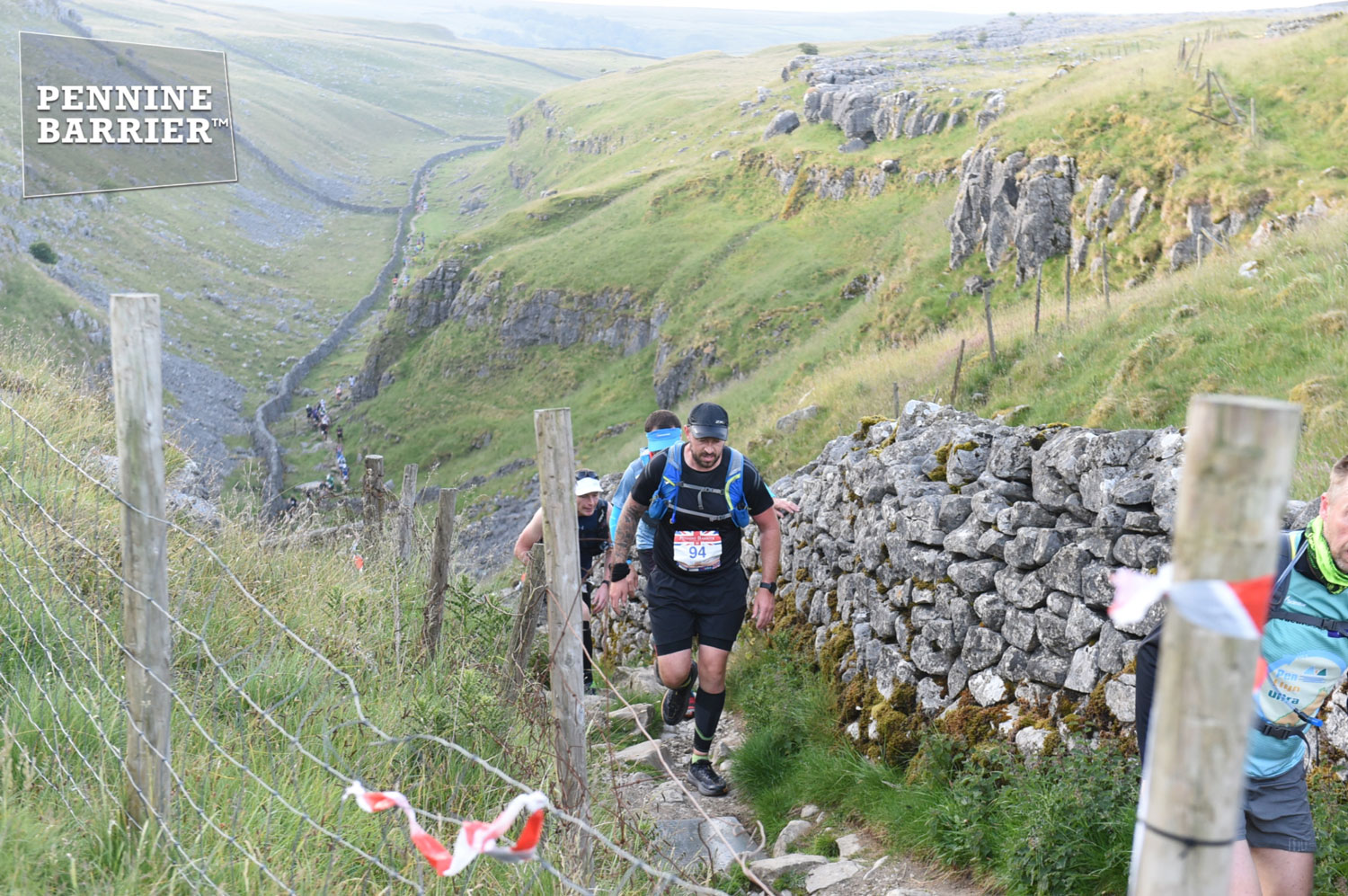 A couple of miles from here will lead you back to checkpoint 1 (now CP 5) where the GB Ultras Team eagerly await your arrival, mainly because they've probably been watching you leg it (or not) towards them since you hit the way marker. Yes, they have you in there sights and if you concentrate really hard you'll be able to make out the checkpoint in the distance. This, my friends means you've almost made it.
You leave checkpoint 5 and head off along the road taking a right, back up 'The hill' (Fountains Fell), this is were you realise just how fudging big that hill was and the fun bit you ran down earlier in the morning has now turned on you. It's another calf killer, just keep moving because once you're at the top it's almost all downhill to the finish. Get in!!!! You'll pass all the loveliness again, all the paths, farms, animals… this is the point I usually start up conversations with random animals, like 'Well hello Mrs Cow, nice to see you again', madness well and truly set in!
Once you pass Malham Tarn again heading towards the weird rocks you take a left, avoiding the shaking stones this time but taking on a little hill, it is little I promise. Then some more downhill running, it's great but the best is still waiting for you. Running down the hills towards the little van selling drinks n snacks you take a right onto the road, then a left into the woods and here, my little lovelies is a treat. A waterfall!! As soon as you enter the woods you feel the coolness of the water and the shade of the trees, this feeling is euphoric. Families splashing about, laughing and enjoying the pool, some who turn and look at you like your an super ultra athlete because they just instinctively know what you've just done. It's my version of perfection! If I could bottle this moment I'd be the happiest woman alive.
Leaving all this behind, that feeling of euphoria drags you through the remaining miles home. No matter how you're feeling at this point, rest assured you've done it, you took on the triplets and the elements, you've battled the fatigue, the mental anguish and the physical pain. You are a supreme athlete, untouchable and unbreakable, you are… fudged!  All you need to do now is get your tired legs over the finish line, get that medal around your neck and sit the fudge down. Easy peasy.
I hope this gives you all an insight into the amazing race that is Pennine Barrier and hope to see you all on Race Day in 2019, you don't want to miss this, its BRILLIANT!
By Lainey Jones.