---
2022 Marks the Return of the Incredible Chester Ultra 50 Mile Race for its 6th Edition.  The Race is hosted by the GB Ultras team with live online GPS tracking from GB Race Tracker & 6 Checkpoints supporting runners along some of the very best & most beautiful natural trails in the region with 849m of Ascent. 
This well-marked ultra-marathon links trails along the River Dee, North Cheshire Way & the Sandstone Trail taking in the Old Dee Bridge, Chester Racecourse, Helsby Hill and leading to Frodsham & Delamere Forest.  The event is also a UTMB Qualifying Race (Application pending)!
Saturday 12th March 2022
---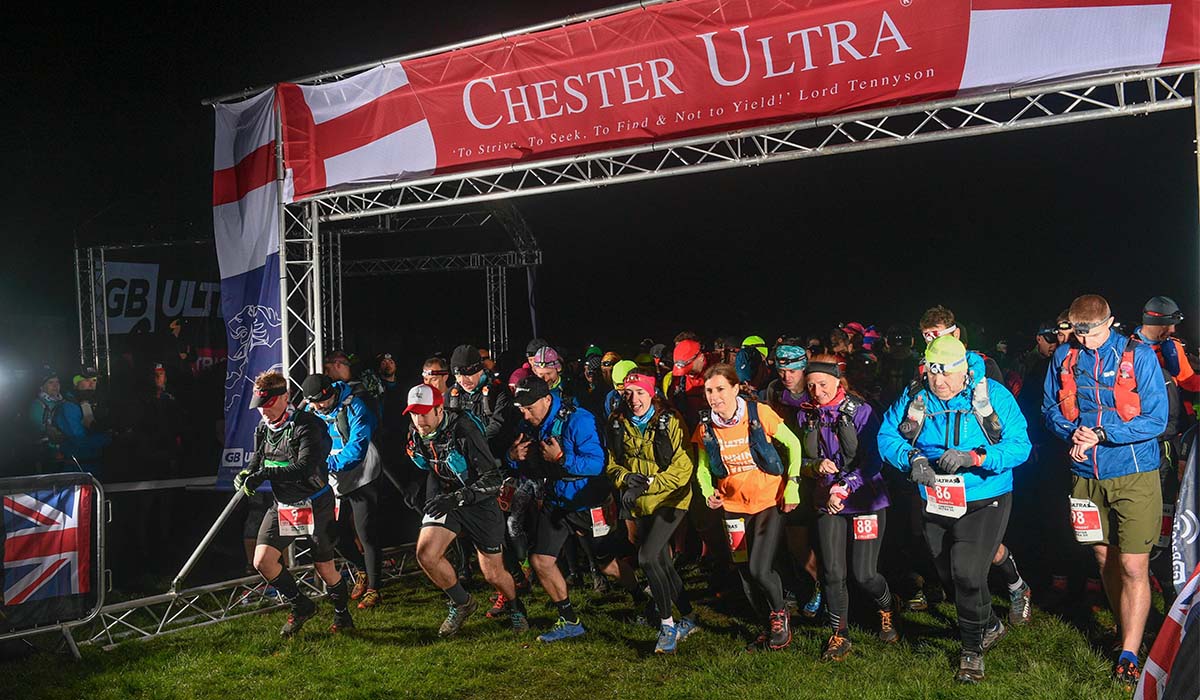 ---
Course Records
Mens PB – Jonathan Palmer (GBR) 6 Hours 33 Minutes (2019)
Ladies PB – Sally Ford (GBR) 7 Hours 42 Minutes (2019)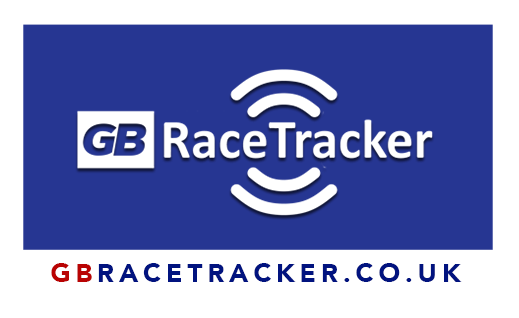 Watch the Race Live with GB Race Tracker
You can now watch the entire race unfold live thanks to the live tracking we use for this event
---
GB ULTRAS 50 MILE GRAND SLAM
Take on ALL 5 of our 50 Milers for the Grand Slam Medal & Hall of Fame
In the lead up to the Race, GB Ultras Running Club organise Free of Charge training runs covering the entire route section by section to help build confidence and prepare runners for the upcoming 50 Mile Race.
Top 100 finishers earn a Gold 'Chester Ultra' Medal, 101-200 finishers earn a Silver 'Chester Ultra' Medal and 201+ finishers earn the Bronze 'Chester Ultra' Medal. The 2022 Chester Ultra 50 Mile is part of the 2021/2022 GB Ultras 50 Mile GRAND SLAM!
---
---
---
Limited Places Available!
---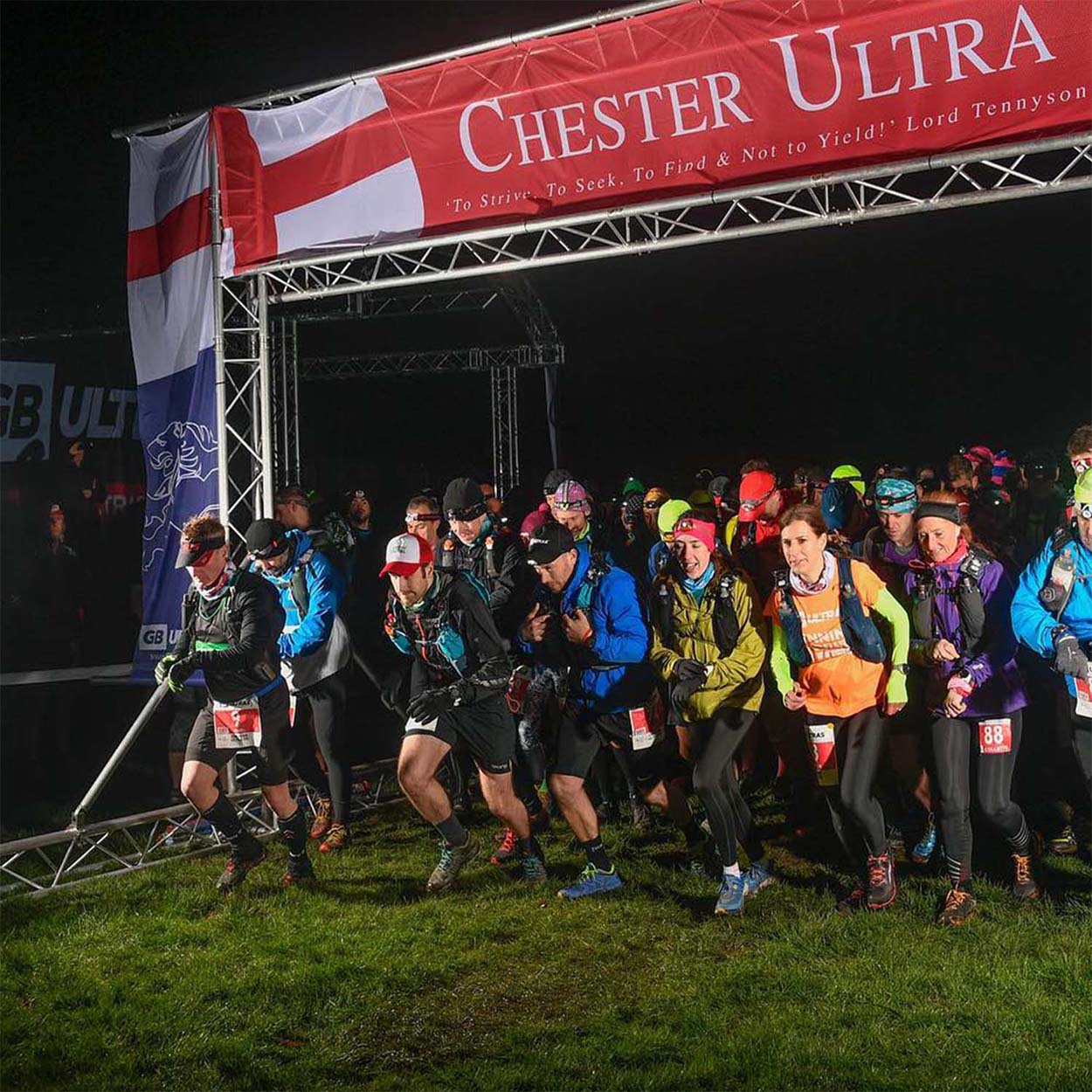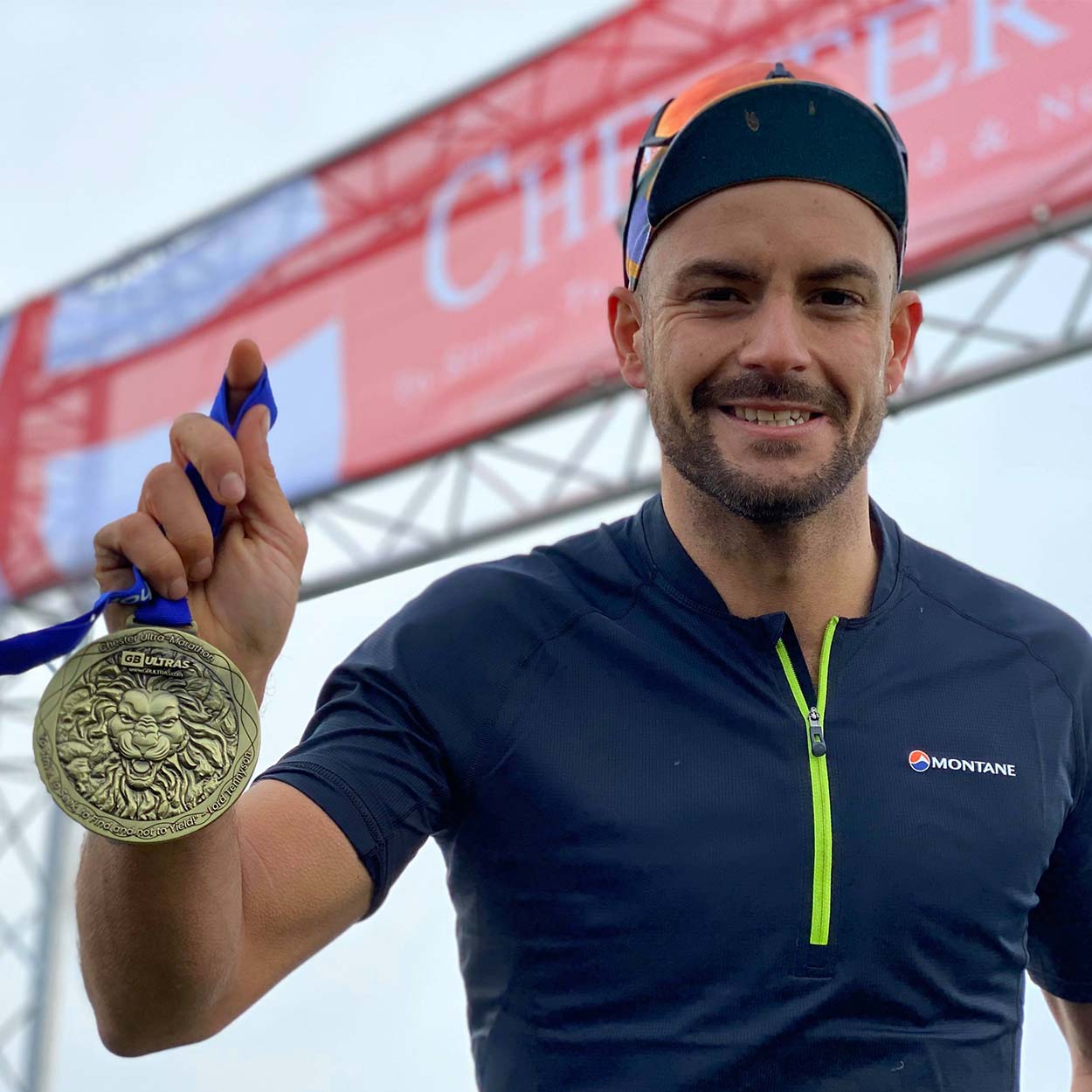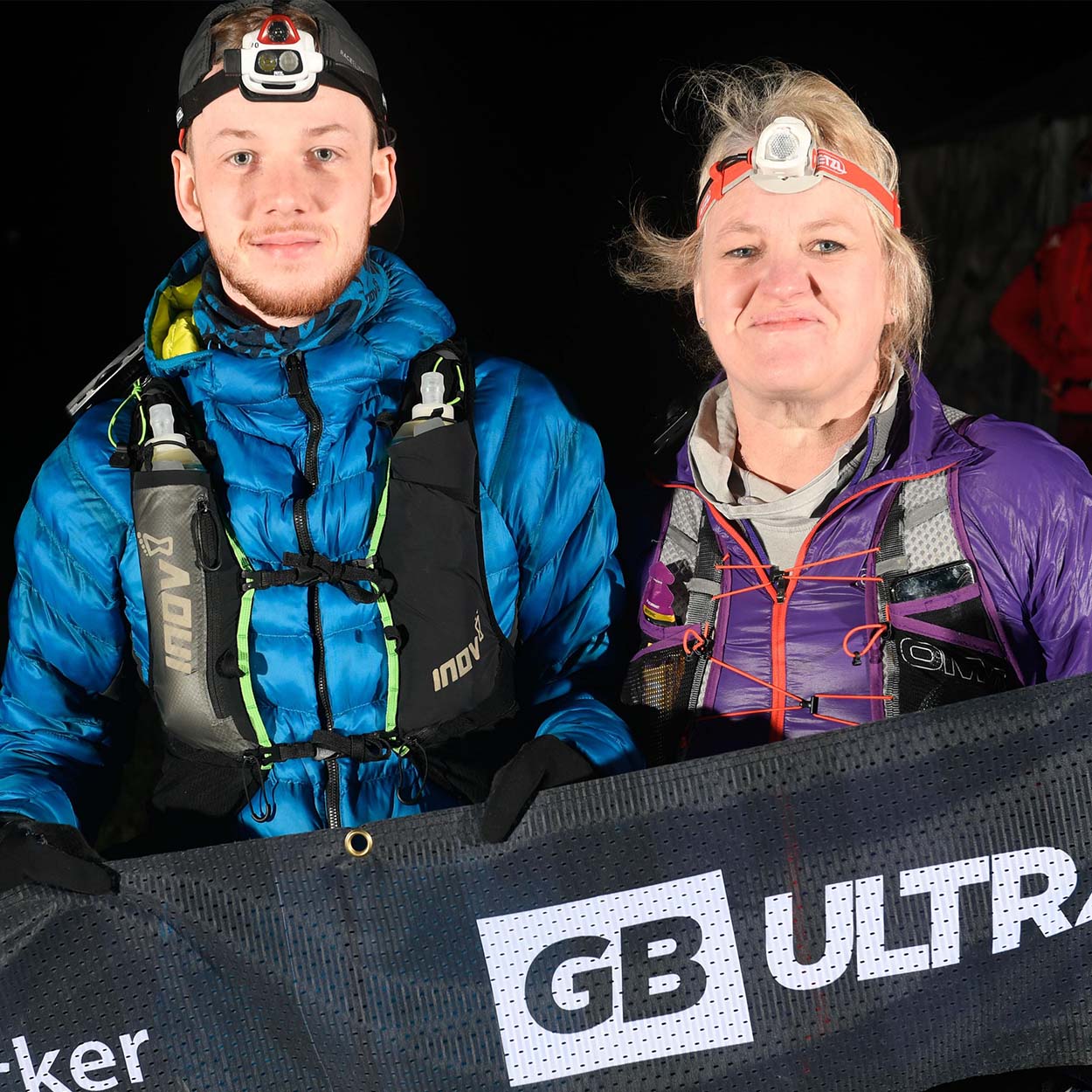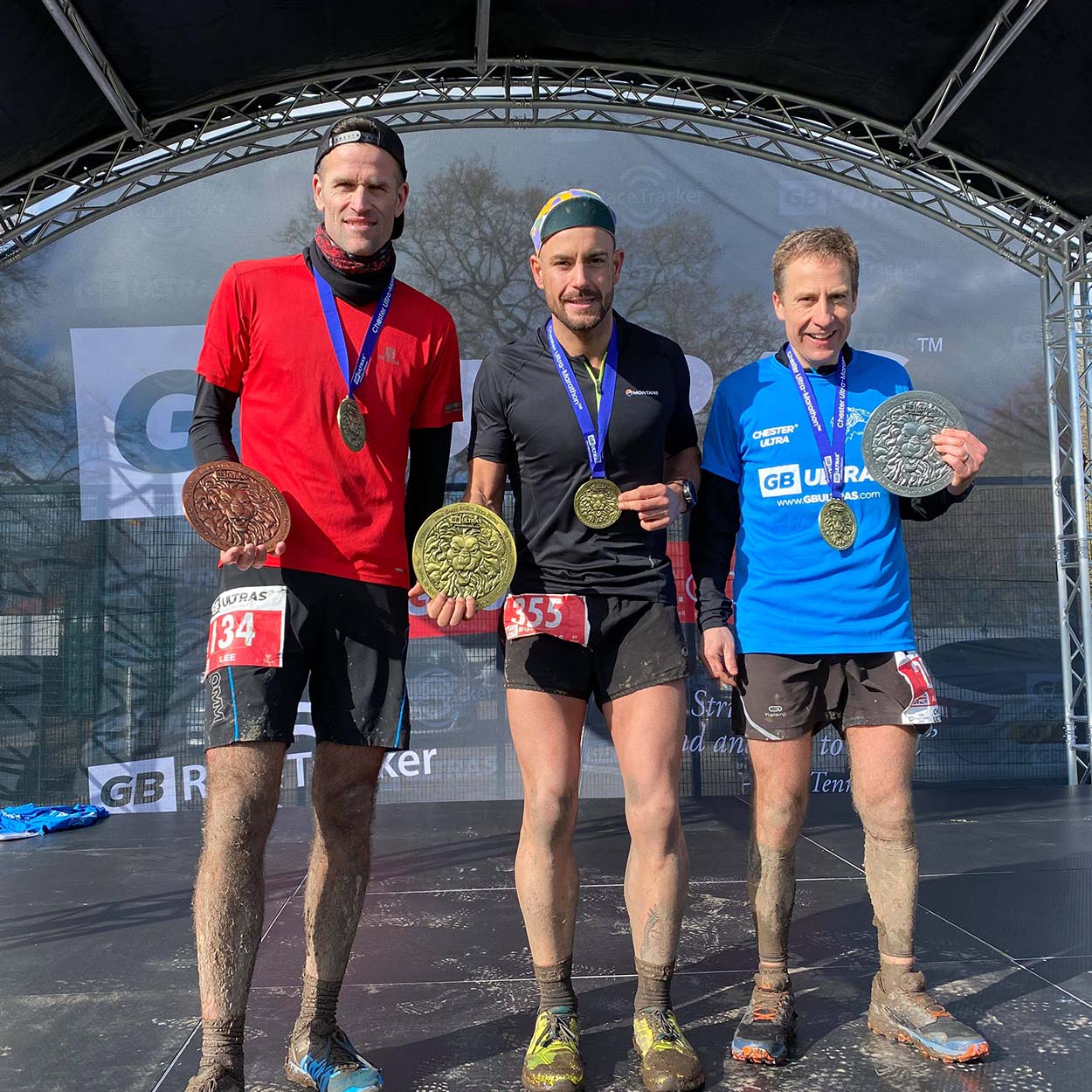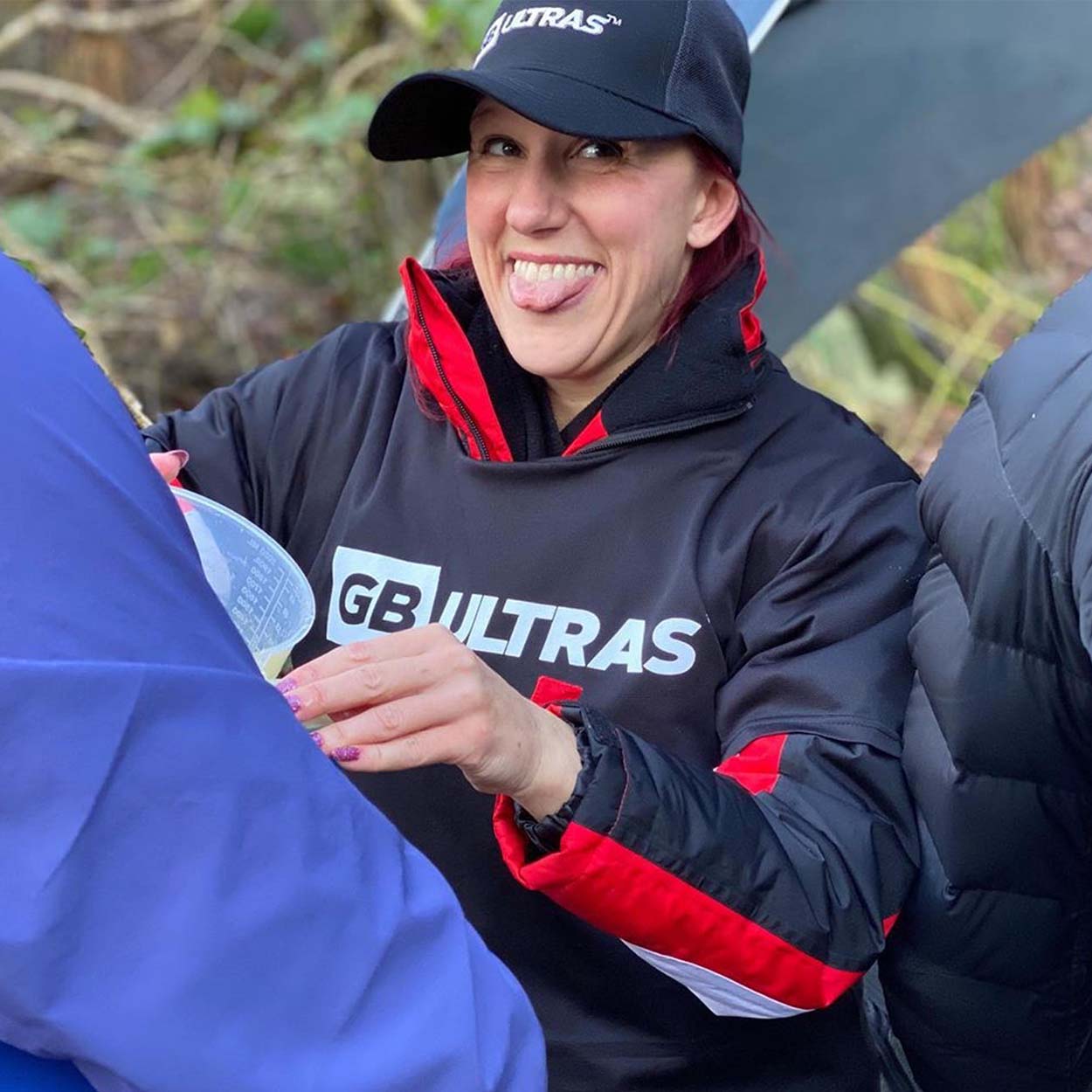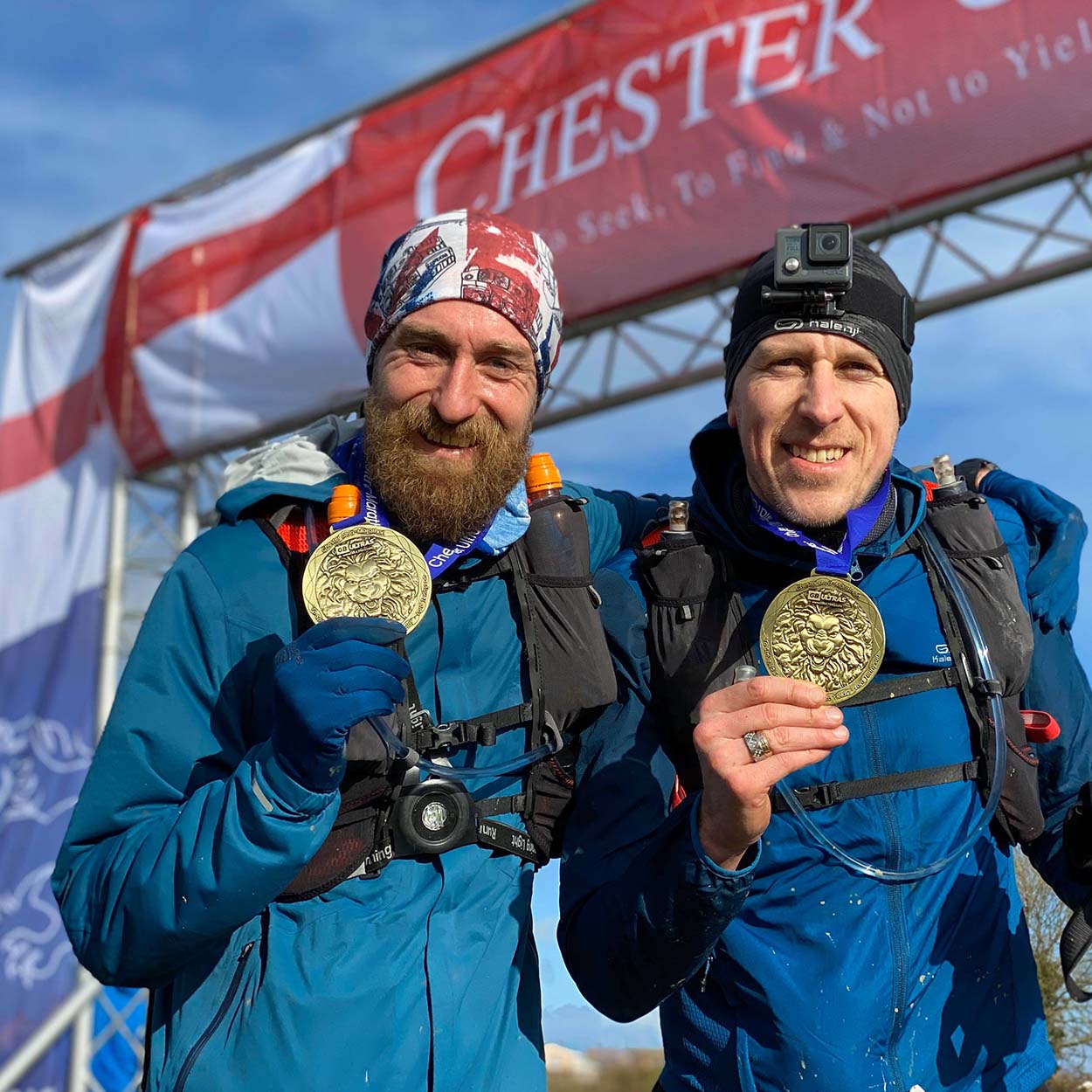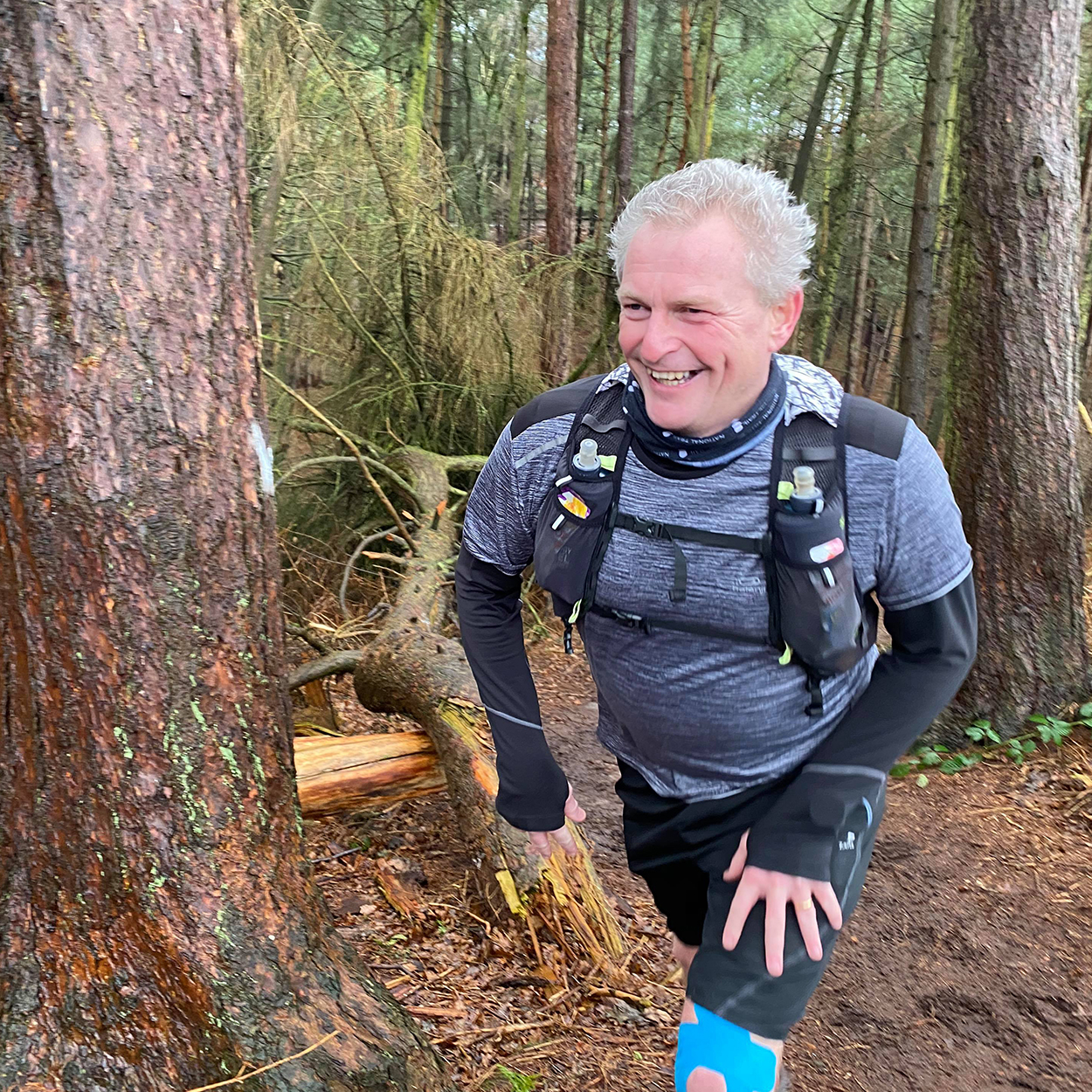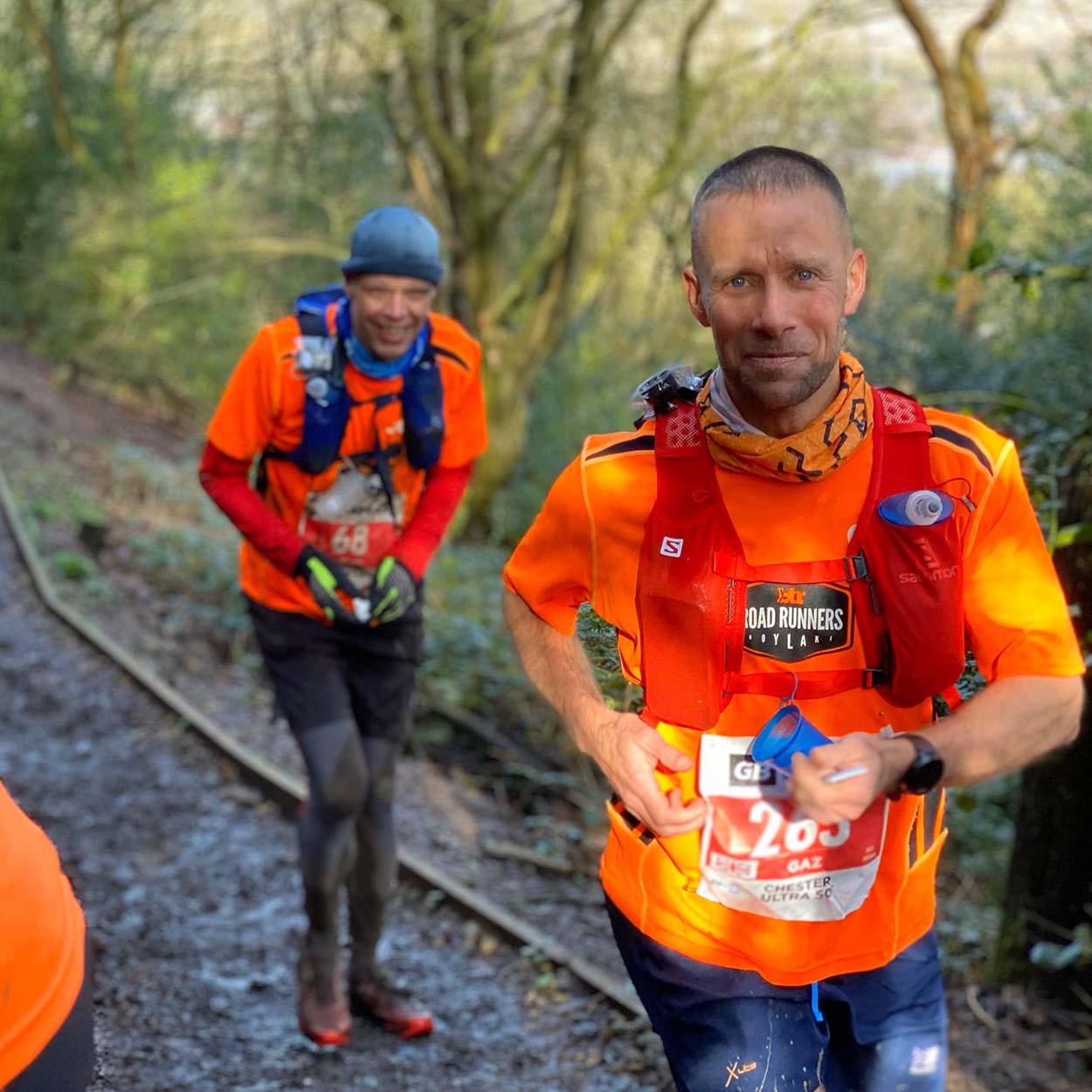 Full Race details
---
START VENUE:

Ellesmere Port Sports Village, Athletics Track, Stanney Lane, Ellesmere Port, CH65 9LB.
At Start Venue
Friday 11th March 2022
5.30pm - 9.00pm Event Team Setup.
Saturday 12th March 2022
5.30am - 6am GB Race Tracker Collection.
6.00am - 8.00am Staggered Race Start - Arrive and Run Procedure.
In Association with GB Ultras Running Club, the U.K's 1st Dedicated Ultra-Running Club, all entrants are invited to join the Team on training runs covering the 2022 Chester Ultra 50 & 100 Mile route prior to Race day. You can attend as many as you like, one day or both days with the aim of learning the route and increasing confidence should any markings go astray come Race day. You'll also have the chance to meet other runners taking on the Race.  As always, these are free of charge.
Saturday 11th December 2021 – Chester Ultra® Recce 1: 
Section covered & distance:  Starting from Ellesmere Port Sports Village and following the Shropshire Canal to Tarporley joining the Sandstone Trail and finishing at Gresty's Waste (Delamere Forest).
Start Time:  08:00 - Start/meeting point:  Ellesmere Port Sport Village (Stanney Lane, Ellesmere Port, CH65 9LB)
Finish point: Gresty's Waste Car Park, Chester Road, CW6 0SP. Car sharing: Please make COVID secure arrangements.
Sunday 12th December 2021 – Chester Ultra® Recce 2:
Section covered & distance:  Miles 25 to 50 of the route on the Sandstone Trail from Gresty's Waste to Ellesmere Port Sports Village, the Finish Venue for the Race.
Start Time:  08:00 - Start/meeting point:  Gresty's Waste, Chester Road, CW6 0SP.
Finish point: Ellesmere Port Sport Village (Stanney Lane, Ellesmere Port, CH65 9LB). Car sharing: Please make COVID secure arrangements
Saturday 22nd January 2022 - Chester Ultra® 100 Recce 3:
Section covered & distance: Miles 48 to 76 miles of the route from Frodsham to Warrington, Widnes and Runcorn prior to a finish at Preston Brook - Start time: 08:00 - Start/meeting point: Frodsham Community Centre (Fluin Ln, Frodsham WA6 7QN)
Finish Point: Spar Car park, 2 Bridgewater Grange, Preston Brook, Runcorn WA7 3AL. Car Sharing: Required.
The training runs are free of charge to attend. Due to ongoing uncertainty regarding COVID-19 please make your own careful arrangements to be picked up/dropped off/car share with friends/family.
Pace wise we'll be going at a nice gentle pace ensuring all runners stay as a group with brief stops approximately every couple of miles.
Generally our training runs have high attendance and for safety reasons we'll be imposing a limit depending on feedback. There will be no minimum attendance limit as i feel that if we can help just one runner prior to Race day then its been a success.
Please take into account weather conditions closer to the time. We recommend runners refer to the Mandatory kit section and carry sufficient food/water for the duration of each of the runs.
TO BE UPDATED
Additional Support Crew Access Points you might find helpful, nearby to where runners cross.
7.5 Miles - as Checkpoint 1.
11 Miles - Little Roodie Car Park, Grosvenor Road, Chester, CH1 1SL. Pay & Display. Runners pass the car park after crossing the Old Dee Bridge and before running past Chester Racecourse.
22 Miles - as Checkpoint 3.
24.5 Miles - The White Lion, Manley Road, Frodsham, WA6 9DD. Runners pass close by along the North Cheshire Way (a short walk away).
32.5 Miles - Runners pass Manley Village School, Frodsham, WA6 9DU along the Sandstone Trail.
35 Miles - as Checkpoint 5.
37 Miles - Gresty's Waste Car Park, Chester Road, Delamere, Tarporley, CW6 0SP - Very busy road crossing for runners here.
43 Miles - as Checkpoint 6.
44 Miles - Shady Oak Restaurant, Bate's Mill Lane, Tarporley, CW6 9UE - Runners pass along the canal.
Please note: Due to parking limitations, No Support Crew Access is permitted at Checkpoint 2 (Towers Road) nor at Checkpoint 4 (Frodsham), its now 'Event Team' only.
Download 'NEW' GPX for Chester Ultra 50
At least 20 years old + at the time of the race.
In good health.
Must have run at least a marathon distance race prior to the event.
This can be for an event not yet taken place but that will be completed prior to the 2022 Chester Ultra start.
Each checkpoint will provide water, along with other refreshments and snacks. We'll also have a Medic or a 1st aider available.
Cut-Off times per Checkpoint – These conditions include the length of time taken to complete sections of the course and they are implemented by the Event Organisers, GB Ultras, at their discretion, to ensure safe and proper running of the event.
START - Event HQ & Registration:
Ellesmere Port Sports Village (EPSV) Athletics Track, Stanney Lane, Ellesmere Port, CH65 9LB.
CHECKPOINT 1 – 4 Miles 
WATER ONLY
Shropshire Canal, Picton Lane, Stoak, CH2 4HL. SJ42335 72987 – No Support Crews permitted due to insufficient parking.
Cut Off at CP1: 7:11 AM Sat
CHECKPOINT 2 – 8.7 Miles 
Tower Rd/Raymond St, Chester, CH1 4EL.  SJ 40065 66580.
Cut Off at CP2: 8:54 AM Sat
CHECKPOINT 3 – 13 Miles 
Waverton, Shropshire Canal Car Park, Eggbridge Lane, Waverton, CH3 7PQ.  SJ 45541 64227.  Cut Off at CP3: 10:14 AM Sat
CHECKPOINT 4 – 20 Miles. 
Sandstone Trail, Crib Lane, Tarporley, CW6 9DQ.  SJ54053 61380.
Cut Off at CP4: 12:40 PM Sat.
CHECKPOINT 5 – 27.5 Miles.
Barnsbridge Car Park, Delamere Forest, Ashton Road, WA6 6US.  SJ 54172 71588.
Cut Off at CP5: 15:00 PM Sat.
CHECKPOINT 6 – 34 Miles. 
Frodsham, Near Middle Walk, WA6 6BW.  SJ 51915 77108.
Cut Off at CP6: 17:20 PM Sat.
CHECKPOINT 7 – 40 Miles. 
Dunham Village Hall, WA6 0NJ.  SJ47132 72560.
Cut Off at CP7: 19:20 PM Sat
FINISH - Event HQ:
Ellesmere Port Sports Village (EPSV) Athletics Track, Stanney Lane, Ellesmere Port, CH65 9LB.
There is a 17 hour cut off time for the event.
Due to parking limitations, Support Crews are NOT permitted at Checkpoint 1 (Stoak), its now staff only.
Mandatory kit to be carried during the race. Without which a participant can be disqualified. Random kit checks during the Race will take place.
Mandatory Kit
Waterproof coat with sealed seams, i.e. Goretex – Min 10,000mm,
Hardcopy Map Ordnance Survey OS117,
Base plate compass,
Long Sleeved Base layer (separate from start kit in a dry bag in case of emergency),
Water bottle or bladder -min 1 litre capacity,
Fully charged mobile phone (with Race HQ numbers) in waterproof covering/bag,
Foil blanket,
Headtorch (Minimum 75 Lumens),
Secondary Headtorch (not mobile phone),
Whistle.
Recommended Kit
Electrolytes – S-Caps,
Emergency Rations.
As the Start and Finish are the Same Venue there is no provision for looking after Dropbags, please keep these safe in your vehicle or with a supporter.
Please be aware GB Ultras Races Cupless! You can buy a GB Ultras reusable cup CLICK HERE to visit the shop.
PARKING
There is ample parking at Ellesmere Port Sports Village, please respect decisions of Car Park stewards who will be helping people park within the grounds. Please also consider car sharing with friends for the event.
We would strongly advise participants to make transport arrangements prior to Race Day and ask runners to rest prior to making any long journey due to exhaustion and the increased risk of an incident.
Local taxi companies:  King Kabs Ellesmere Port on 0151 355 1122 or Chester on 01244 343434 and Chester Taxi Service on 01244 421024.
Local train station: Ellesmere Port Train Station, Europa Way, CH65 4AR. 
Book via https://www.thetrainline.com/stations/chester with regular trains all over the UK.
Please note: a taxi from Ellesmere Port Train Station to the Sports Village (approx 2.2 miles) takes around 7 minutes.
ACCOMMODATION
There are a number of hotels and Bed & Breakfasts in the area. Book early to avoid disappointment.
CAR SHARING
In 2022 we are using a car sharing website developed to save you money, and reduce the carbon footprint of the event, please see if anyone else is making a similar journey to the event or see if you can provide a lift.
Car Share link - https://liftshare.com/uk  
Ultra-Marathon Admission Waiver
Each ultra runner agrees and understands the full nature of an Ultra-Marathon. That an Ultra-Marathon involves running throughout the day and well into the night at times with limited rest over challenging terrain with inherent risks of changing weather conditions. Each ultra runner understands that it is their responsibility to adequately train for the event, and monitor their own health throughout and are ultimately responsible for their own safety. Criteria ensures that a runners safety depends on their own skills and abilities and these have been gained from other events placing them in good stead to take on the mental and physical challenges of Chester Ultra.
Each ultra runner understands these are there responsibilities not those of GB Ultras.
Please read these terms and conditions carefully and make sure that you understand them, before placing an entry on our site. By submitting your entry form, you agree to be bound by these terms and conditions ("the Terms"), and by submitting, you declare that you hereby, for yourself, your heirs and executors, administrators, successors, and assigns, declare that:-
1. I hereby agree to comply with the Conditions of Entry and all event rules and regulations as set down by GB Ultras Ltd ("the Event Organisers") a company registered in England and Wales under company number 09397186. These conditions include the length of time taken to complete sections of the course which may be implemented by the Event Organisers, at their discretion, to ensure safe and proper running of the event.
2. I agree that the decision of the Race Referee will be final in all circumstances and no discussion will be entered into.
3. I agree to conduct myself in a sporting, professional and cautious manner during my participation in the event and understand that I may be disqualified if I do not do so.
4. I understand participation in this Event is physically strenuous and demanding and am fully aware of the nature of the event and all associated medical and physical risks involved. I further certify that I am physically capable of competing in this Event and I will only compete if I am fit enough to do so.
5. I will be immediately disqualified from the Event if I am found to have intentionally shortened the route to the race, and found to be deliberately littering the course.
6. If I have any medical condition(s), including allergies, which the Event Organisers or Event medical advisors might need to be aware of, I have provided details of this on my entry form, and will also provide written details of this on the rear of my pin-on numbers prior to my participation in the Event. I agree to display my number at all times during the Event.
7. I acknowledge that my pin-on number is personal to me and it is non-transferable under any circumstances.
8. I understand and agree that I participate in this Event entirely at my own risk, that I must rely on my own ability in dealing with all hazards, and that I must conduct myself in a manner that is safe for myself and all others throughout the duration of this Event.
9. I agree to retire immediately from the event if ordered to do so by the Event Organisers, any government official or member of the emergency services.
10. I accept full liability for any medical expenses incurred as a result of training for and/or participating in the Event
11. I accept that the Event Organisers, sponsors, race officials, medical advisers and any person involved in the organisation of this Event are not liable for any injury or illness or resultant death that I may suffer as a result of my participation in the Event, whether prior to, during or subsequent to the Event. I enter the race entirely at my own risk. I renounce any rights and claims for damages that I may have against the Event Organisers, sponsors, race officials, medical advisers and any person involved in the organisation of this Event together with their officers, directors, shareholders, successors and assigns, (collectively, "Releasees") and release them from all liability to the Participant and his/her personal representatives, assigns, heirs, executors, and successors for loss(es), damage(s) and claims therefor on account of injury to Participant or his/her property or the resultant death of Participant, whether caused by the active or passive negligence of the Releasees or otherwise, in connection with Participants involvement in the Event ("Losses"), and further covenants not to sue any of the aforementioned parties for such Losses.
12. Whilst the Event Organisers take every care with the staging of the Event, I accept that I must make all reasonable precautions for the safeguarding of my person and of my property during my participation in this Event. I further acknowledge that personal accident and personal items insurance is my responsibility.
13. I understand that at registration, I must produce photographic identification.
14. I am aware that when running, the function of the marshals is only to indicate direction and that I must decide if the movement is safe.
15. I accept that, in relation to my participation in this Event, I am required to obey instructions from marshals and relevant signage before, during and after the Event.
16. The Event Organisers introduce cut off times for completion of sections of the course as they see fit. These will be made clear prior to the race. Competitors may be instructed to withdraw from the Event in accordance with the imposed cut off times.
17. I accept that the Event Organisers reserve the right to amend the event format or cancel the Event due to health and safety reasons, including storm, rain, inclement weather, winds or any other act of god conditions. I accept that my Entry fee shall be non-refundable in this circumstance as costs have already been incurred.
18. I accept that the Event Organisers will do their utmost to provide me with a finish time following my completion of the Event, however they will not be held responsible for any computer result anomalies.
19. I will be 20 years old or over on the day of the Event (Rule T3 (141) S5 UKA Trail Running).
20. I have read, understood and accept the GB Ultras Ltd Withdrawal Policy.
21. I understand that confirmed entry to this event is dependent on a fully and accurately completed online Entry Form; and receipt of payment to cover my Entry fee at least 10 working days (2 weeks) in advance of the event. If either of these conditions is not fulfilled then my entry will not be valid nor accepted, and I will not be eligible to take part in the Event.
22. Through my completion and submission of the online Entry Form, I am committing to paying for my Event entry via the means as instructed on the GB Ultras Ltd website.
23. I irrevocably consent to my appearance in any media format, in relation to the publicity of this Event, and in future publicity and advertising of GB Ultras Ltd; provided that such use does not imply my direct endorsement of any official sponsor or suppliers of the Event.
24. All decisions and rulings by the Event Organisers, its employees and its agents are considered final.
25. The Event Organisers reserve the right to vary these conditions by giving notice to in writing in any official event material or correspondence prior to the Event.
26. A person who is not party to these Terms shall not have any rights under or in connection with them under the Contracts (Rights of Third Parties) Act 1999.
27. We will not be liable or responsible for any failure to perform, or delay in performance of, any of our obligations under the Terms that is caused by events outside our reasonable control (Force Majeure Event).
A Force Majeure Event includes any act, event, non-happening, omission or accident beyond our reasonable control and includes in particular (without limitation) the following: strikes, lock-outs or other industrial action; civil commotion, riot, invasion, terrorist attack or threat of terrorist attack, war (whether declared or not) or threat or preparation for war; fire, explosion, storm, flood, earthquake, subsidence, epidemic or other natural disaster; impossibility of the use of railways, shipping, aircraft, motor transport or other means of public or private transport; impossibility of the use of public or private telecommunications networks; the acts, decrees, legislation, regulations or restrictions of any government; and pandemic or epidemic.
28. I have read, understood and accept the GB Ultras Ltd Withdrawal Policy. You agree that we may publish your Personal Information as part of the results of the Event and may pass such information to the governing body or any affiliated organisation for the purpose of insurance, licences or for publishing results either for the event alone or combined with or compared to other events. Results may include (but not be limited to) name, any club affiliation, race times, occupation and age category. Your details may also be passed onto 3rd parties via Live tracking so that your family and friends and the general public can follow every entrants position during the Race.
29. Should a GPS Tracker be damaged, lost or stolen then the entrant agrees to cover the cost of the tracker which is £150 + VAT per GPS tracker.
30. Upon withdrawal or completion of the Race, the runner agrees to return the GPS tracker to the Race Organiser. If a GPS tracker is not returned to a dedicated Race Marshal at Race HQ then the runner will be charged £150 + VAT.
31.  I have read, understood and accept the GB Ultras Ltd Withdrawal Policy.
Although largely a trail event, due to the nature of the event, there are inevitably some road crossings where it will be necessary to slow and possibly stop. No roads are closed en route. Particular attention should be given at these points.
As always, if you see a runner experiencing difficulties please inform Checkpoint Marshals. Each runner should have the Race Organiser's mobile number. Our team will always endeavour to reach any participant in difficulty but due to inaccessibility of the Trail this can take time. 
The trail runs close by to Water Courses like the River Dee and Shropshire Canal - care should be taken at these areas, particularly given the time of the year of the event.
Conditions might well be muddy and icy, be careful and mindful, of uneven and slippery terrain, falling branches, some overgrowth, stiles to negotiate and close to the stiles, barbed wire.  There might also be some danger presented by steep drops, close to cliff edges at Helsby & Frodsham Hill (runners aren't beside the cliff).  Watch your footing.  Also be mindful and respectful of other users of the trail, giving priority to others.
Before the race:
Due to the nature of the event, costs are incurred as soon as a participant signs up, no refunds are possible in this event.
Any deferrals to the 2023 Race must be done 8 weeks prior to the event, however, entrants can transfer their race place up until 3 weeks before Race day providing qualifying criteria is met by the replacement runner (please see Qualifying Criteria).
Transfer to another runner
If you are looking to transfer the place please do let us know the following details of the replacement runner:
Full address and postcode
UKA membership number (if any)
During the race:
Please inform a GB Ultras Race Marshal at one of the Checkpoint's or Race HQ.  This will ensure all participants who are registered and pull out of the race are accounted for, allowing for the accurate and safe running of the event.  If a participant withdraws at a Checkpoint they must hand over their Race Number & GPS Tracker to the Event team to signal their retirement.  Marshals' will inform the race organiser and each of the remaining Checkpoints can update their manual lists.
A sweeper after the cut off time will endeavour to take retired participants to the Finish Venue.  Effectively those pulling out of the Race may well have to wait until the Checkpoint closes before they are transported back to the Finish.  Given the size of the Start line, we would recommend having your own Support Crew in case withdrawal during the event is needed or please expect a delay in the transportation time back to the Start/Finish venue or be prepared to arrange your own to save time waiting on the arrangements.
GB Ultras also reserve the right to pull any participant out of the race on health grounds. 
GB Ultras Shop
Want to join the GB Ultras Shop? Head over to the Shop now!
Visit the GB Ultras Shop
Would you like to be a Volunteer?
---