One of the Scotland's Great trails with Fastest Known Times   from Jack Scott completing the trail in 55h 42m in 2020. And Joasia Zakrzewski holding the ladies FKT title of 62h 20m.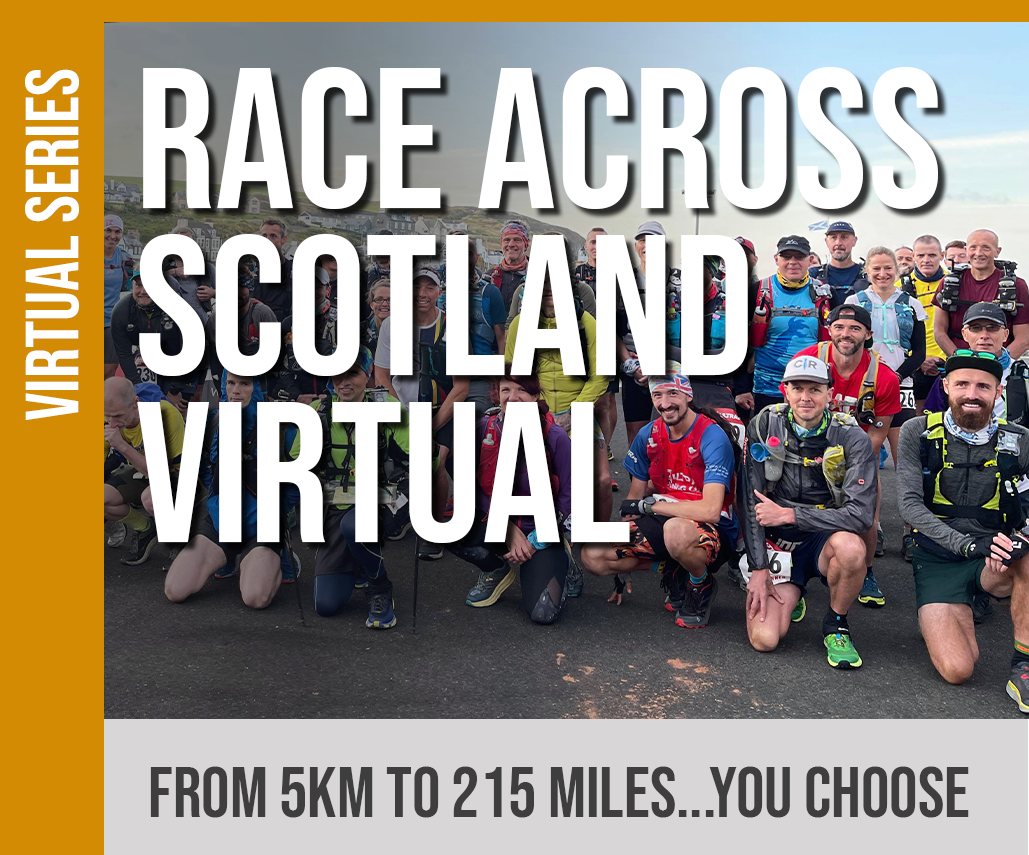 ---
Start - ENTRIES NOW OPEN
---
Runners completing the 5k, Half-Marathon and Marathon receive a Limited Edition 'Race Across Scotland' virtual medal.
---
Runners completing the 50 miles or 100 miles qualify for the limited Edition 'RACE ACROSS SCOTLAND' larger medal. 
---
Those taking on the FULL 215 Miles receive a BESPOKE EXTRA LARGE incredible MOUNTAIN Limited Edition 'RACE ACROSS SCOTLAND' Medal
 with additional prizes for the first 3 Male and Female finishers for the 215, 100 and the 50 mile receiving a GB Ultras Lion shield.
---
---
---
---
Take on the GB Ultras Virtual Series!
A set of live online ultra-marathon events that will give you a challenge to aspire to within a set timescale.  There's live online mapping from GB Race Tracker updating your 'virtual' position on the race route with your personalised runner profile.  Technology from Race Tracker takes participants on great trails from all over World!
There are virtual distances of 5km, 10km, Half-Marathon, Marathon, 50 Mile, 100 Mile and 215 Miles to choose from along the Race Across Scotland. 
How it works
---
---
Once you've decided which race(s) to enter, you'll now be able to create your profile. This will be viewable by anyone watching the progress of the event.
---
---
When the race opens you can start your run! (You don't have to complete the race in one run) When you finish your run that day, simply let us know the distance you ran and we will move your pin that distance on the progress map.
---
---
When you have accumulated the distance of the race you entered, you will have completed the challenge. This can be over as many runs/days as you want, as long as it's completed before the designated cutoff point (exactly like our normal events!).  We'll then send out your Bespoke Award as soon as they arrive!
---
---
At anytime you can view the leaderboard on the GB Racetracker website to see how everyone is doing. The winner of the race will be the person who accumulated the required distance first...simples!
---