I've always had a fascination for the Brecon Beacons but i've never been! As soon as I hear the words "Brecon Beacons" I immediately envision the Army and SAS training and the tough times ahead and a vision pops into my head which is the huge beautiful lump they call Pen Y Fan.
So when GB Ultras released a brand new race for 2019 – "The Beacons Way Ultra" I thought "What a perfect excuse to go to the Brecons"! So I spontaneously booked myself on the race there and then in bed late one night back in November 2018. More details on the #Ultramarathon events held by GB Ultras can be found on www.GBUltras.com …
I had 9 months to train and some good races already booked prior to it which would give me a good base to build on, prep and work up to the event! I don't think I've ever done a big race before and not recced' the course in advance! But this one I decided was going to be a wildcard, an adventure if you like with no recces!
So I worked my way through the races prior to the Beacons way (The Spine Challenger, LM42, UTS50 & the Scafell Skyrace) as well as spending nearly every single weekend playing out in the mountains (most people call this training) … I don't like to call it training, I prefer to call it playing out – as its my favourite bit!
So the 9 months came around pretty quick and before you know it I'm at the #GBUltras Race Brief, 5.45am on Saturday 13th July at Abergavenny Castle. I'd been kit checked the day before.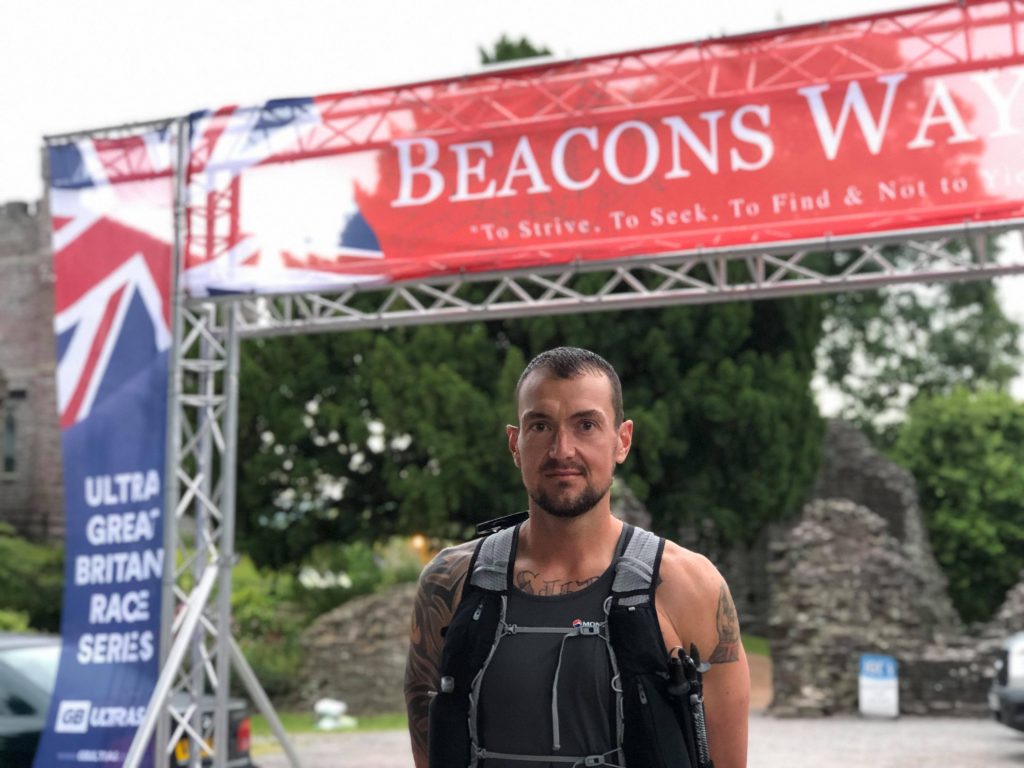 So it was just a case of get up, rock up, collect the GB Race Tracker, get briefed & away we go. I'd had about 3 hours sleep… I was excited and keen to go!! The race started at 6am sharp!
The plan was to finish Sub-24 hours. For me personally, I didn't think that was out of reach – anything else was a bonus! I was hoping to be closer to 21-22 hours. I've never been to the Brecon Beacons in my life, and i've never ran 100 miles in full heat of summer and I knew prior to all this that I don't like running when it's warm haha!
GB Race Tracker provided the live online GPS tracking for the event via the portal https://map.racetracker.no/?race=beacons_way_ultra_100 with updates every 2 minutes for those watching from afar, data roaming tracking, fastening securely and lightweight. More details on #GBRaceTracker can be found at www.GBRaceTracker.co.uk
The race started really quick and by mile 1 I'd settled in at around 5th position. I put some headphones in and zoned out. It's the 1st time i've done so in a long time in an ultra and after an hour they was out my ears and back in my race vest!
Checkpoint 1 at mile 7 came really quick. I filled up one flask, added my electrolytes and was on the move again in about 30 seconds. I'd moved into 4th now and there was a trio of us clumped together chatting so we were all dancing between 2nd, 3rd and 4th on the tracker depending on whether there was on a climb or a descent – 1st place was long gone like a rocket (Charlie Sharpe) and he was already 15 minutes ahead of us at CP1!
I was strong on the climbs but wasn't able to let go as much as I'd of liked on the descents with the other 2 runners beside me and I was really weary of an injury I'd picked up and had just managed to shake off about a week before the event. I was told by physio to keep my cadence high so I was sticking with that – nice, small, fast steps! So I kept getting left on the flat sections as well as the descents but I wasn't worried – just a bit frustrated! There was still a loooooong way to go though.
I was starting to feel abit tired now! I wasn't too sure if it was the humidity or the fact I'd only had 3 hours sleep or the fact I'd raced an ultra a month since March! It was probably a combination of all of these factors! Luckily we came to the top of a hill and the clouds rolled in and the moisture cooled me down just nice.
Again, Checkpoint 2 LLanthony, at mile 13 came around really quick! We were all motoring through and I was sweating profusely! I'd made a conscious effort to drink both soft flasks of electrolyte this time round so I filled them both up and again I was back on the road within a minute keen not to loose sight of 2nd and 3rd who were visible again.
We were running on nice, rolling ,single track, trails passing through forest and shrubbery overlooking fields that looked like patchwork quilts. We then descended into CP3, Crickhowell, together.
I don't faff in aid stations. I was the last in & 1st out. It didn't take long though before all 3 of us were back together again.
The race pretty much continued like this for the next 10 miles before one of the other 2 runners began to slowly diminish on one of the climbs and that was the last I saw of him. I was overheating badly now sweat pouring out of me. I can't seem to remember CP4 ?? But again it would of been an in and out job.
We were close to CP 5 at Talybont now (my one and only drop bag point) and boy was I looking forward to my chocolate yazoo I'd packed! You could of had 2 drop bags – I'd planned on utilising both: 1 at CP5 and 1 at CP9 but I thought your drop bag travelled up the course with you…I found out at Registration you had to pack 2 separate bags to keep Race Logistics simple as some runners are only just leaving CP5 while others are approaching CP9 so this makes 1 x dropbag going to 2 different points difficult. I kept it simple and went with CP5.
The other lad I was with had made a break for it. He had a camper van with a support crew meeting him at all the Checkpoints'. The fire road leading up to it went on for a mile or two slightly up hill….it seemed never ending, I couldn't see the CP & I was getting worried as I was out of food and water and then thankfully I was greeted by a Marshall as I turned a slight bend – "thank god for that" I thought!
I was on a bit of a low here. I was really hot and thirsty. On arrival at Talybont I ALWAYS politely ask for some head-space until I'm locked and loaded again – as in the past i've been known to talk too much, not concentrate and leave without filling my waters up or collecting spare batteries, etc – the really important stuff that I need ha!
As I got there, 2nd place was just on his way up Pen Y Fan steps! I did what I needed to as quick as I could and immediately felt my pack weight increase as I'd loaded it with enough electrolyte sachets to get me to the end. The way I was sweating if I began to cramp it was game over for me – I could live off the aid station food every 10 mile or so I filled my spare pockets with that rather than my preferred food and a GPS device in case my watch died.
I explained to the staff that this was my only planned drop bag so that's why I was concentrating so much making crucial decisions – what to take and what to leave before one of the staff said she was to be Cp 9 leader and could have my drop bag there for me when I arrived so long as I didn't arrive before 6pm when she was due to set up ha! I was very grateful for this so I set off up Pen Y Fan with my chocolate yazoo in hand about 50 miles in. I'd wasted what felt like a good 5/10 mins at that CP, my brain was a bit fried!
I took my time getting to the summit of Pen Y Fan enjoying my milkshake and the cool breeze that was getting stronger and stronger the higher I got. I passed my empty bottle to a passer by and asked if he could hand this into the checkpoint staff at the bottom I don't think he had a choice I just smiled and passed it to him and said "thank you very much" ha!
The terrain had totally changed now. It had gone from dry, earthy, grass, soil, single track to more technical terrain . Not majorly technical but there was a huge change in contrast. More suited to my style of running. I was pretty fudged by this point but I kept going the best I could. The wind was blowing into me so I didn't fight it, I efficiently went as fast as I could.
2nd place was back in sight as I saw him disappear over the top of "Corn du". I guessed I was 5 mins behind him. I got over it myself and it was a quad busting descent for 2k down to CP6 at Storey Arms . I was out of water and Wayne Drinkwater, the Race Director, just managed to catch me filling my waters up and having a cool down in a steam at the bottom about half a mile before the aid station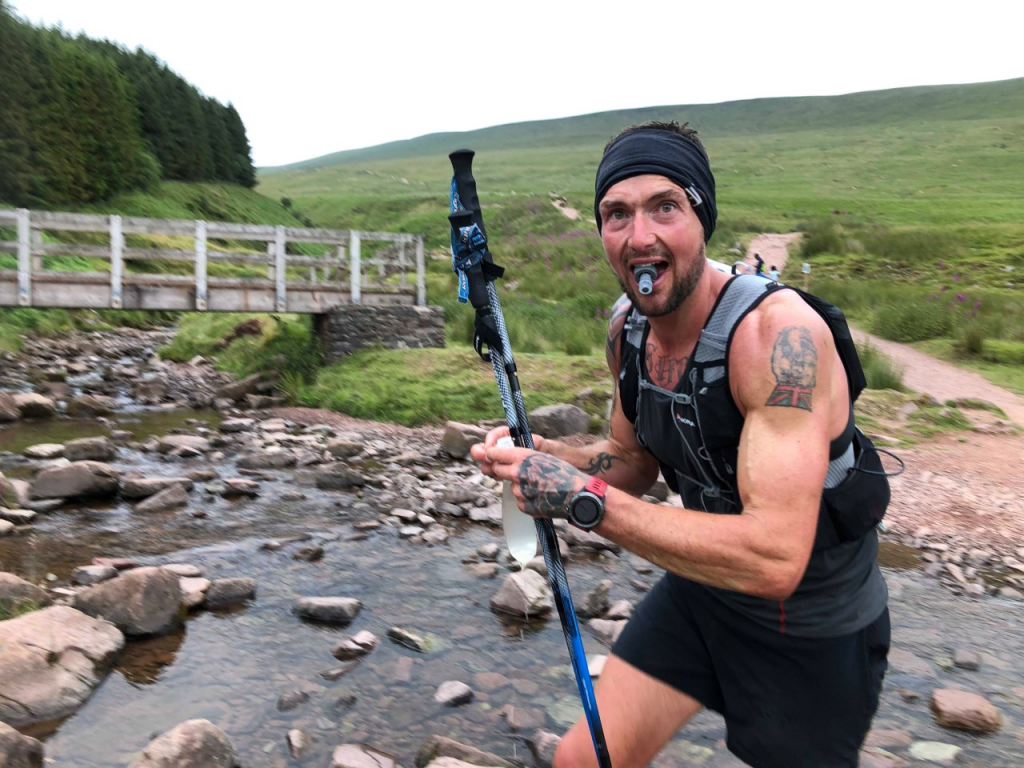 I was feeling better now so I jogged onto Checkpoint 6 and 2nd place has taken a nasty fall on the descent, luckily he was more shook up than anything so we left CP6 together and stuck with each other keeping each other company.
We stuck with each other all the way to Checkpoint 7. I had another very quick turnaround at the CP and shouted "Are you coming"? He said his goodbyes to his crew and joined me and within a few miles I just couldn't keep up with him his pace just didn't correlate with mine I had to let him go. Being on my own didn't bother me at all but I was peeved off with myself and questioning why I felt so weak?
So I spent an hour or so on my own and took a wrong turn somewhere just before Checkpoint 8!
I was pretty fuming with myself so I sat down for 5, had some Coca Cola and a chat with the staff, they gave me some baby wipes to clean up some grazes. While I was sat down I emptied my shoes of stones. They said 2nd had only been here 10 mins ago . That's not too bad I thought – to say I'd took a long cut and got lost, went river trekking and climbing up mud banks through bramble bushes ha! I put my head torch on ready for darkness and started my ascent on a big looking hill, Fan Brycheiniog.
The sun was just setting, the Sky was orange and there was a big cloud bank heading in our direction, it looked amazing taking me out of my bad mood. Once the cloud came in though visibility was like 2 metres max. It got pretty cold too so I stopped in a shelter at the summit and put my spare primino base layer on. Navigating along the ridge line was relatively easy it was once you started the descent off it I just couldn't find a path or trail in the grass and the underfoot conditions were really slow going.
I made it down to the tarmac road eventually without going off course and made some good time back. Running all the way to Checkpoint 9, Llanddeusant Village Hall, I knew my friend Kimmy Kennedy was going to be ready and waiting as I was well behind schedule now and wanted my watch charger out my drop bag too. As I came into CP9, 2nd was on his way out. I wished him luck and to keep going strong.
Kim was ready and chatting to the #GBUltras Event team. I was red hot again now with putting on a good pace along the 2 mile stretch of tarmac so I took my mid-layer off. The staff offered me some warm soup – I refrained as I didn't want to waste any time. I rummaged in my drop bag, quickly grabbed another yazoo and some of my own food and off we went.
My legs were pretty hammered now so I tried my best to make use of the 2 mile tarmac road back onto the trail but was struggling to be honest because the roads were quite steep, but I did my best. I batted it out and soon enough we were on the last of the big climbs and what a bugger it was! (Garreg Las & Carreg Yr Ogof)
I began to accept I'd be finishing 3rd as I'd hit a new all time low between Checkpoint 9 and 10. I even told Kim I'm having a break from running – I was almost in tears saying it (being serious) I felt emotional – I think I was just overtired. The conditions underfoot had reduced me to a complete walk. It was pitch black & the track was vague. I kept finding it & then it would go, it was really hard to stay on my feet in the grassy tussocks and the big patches of boulders while trying to navigate, falling over loads! I could see head-torches in the distance in different locations but I didn't know if they were people in my race or another race going on in the area at the same time so I just kept on pushing to Checkpoint 10 – Finally I could see it in the distance, my pace picked up a little bit now and we managed to jog the few kilometres into CP10.
I'd managed to catch 2nd place up! Game on I thought! It was turning into a proper race! I had some cold pizza, a gallon of Coca Cola and my filled my bottles back up ready for the last 15 Mile stretch which I'd been told, prior to the race, was all down hill to the finish line (lies ha)!
The Checkpoint staff also informed me that 1st place still hadn't checked in yet so in effect me and Nik Farrant were NOW joint 1st position at that very moment! I couldn't believe it!
"C'mon Kimmy let's do this" I said. Nik was already locked and loaded and had a pacer with him now and had set off about 30 seconds ago. Apparently, it was all down hill from here (pfffftt Knowing what I know now I'd of said it was more undulating but trending downhill with a couple of small brutal climbs – brutal when you've come so far).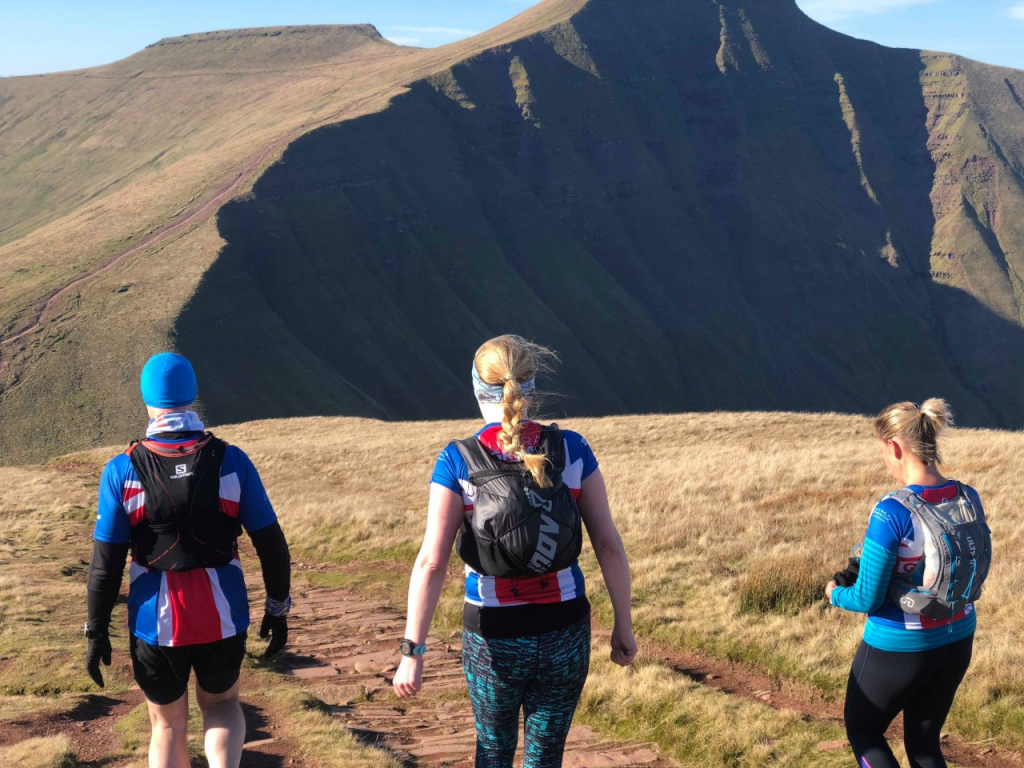 So I got my bearings pretty quick and managed to get us bang on the track without any issues. Nik was slightly off track but moving parallel with us. With the new, raw adrenaline now flowing through my veins- all the pain, fatigue and dismay had subsided and was replaced with excitement and a new found sense of strength and hope. I'm not gonna lie I set off like a man possessed. I could see Nik and his pacers torches a fair bit back now trying to find the trail! The sun was just beginning to come up and I yelled over my shoulder at Kimmy, "turn your torch off"!!
There was just enough sun light creeping out of the darkness to be able to see where we was going. I forgot all about the distance (15 mile) and carried on booting it down hill stopping every so often to check we was still on course as the track was abit rough at times. So we just kept going relentlessly until we hit abit of a climb and then the fatigue would kick back in. I felt sick I kept having to force shot blocks in me, hardly even chewing them, just taking them like tablets with water.
This went on for 15 miles! I knew how strong a runner Nik was with having ran more than half the course with him and his ability to be able to just pull away from me and disappear at times. I was scared he was going to come sprinting behind me at any second so I just kept pushing and pushing and pushing – telling myself he was just around the corner behind me and gaining on me all the time. Kim is a very fast runner – in a flat race she would kick my butt but she's had a few nasty falls descending so on the descents she just said do not worry about me I'll find my way back – she also had the route so I'm bombing it down a steep rocky track on my own ahead and I full on tripped and hit the deck hard – any other time I'd of stopped and tried not to cry ha but not today ! I waited for Kim because I could feel all my kit hanging out my bag so I got her to push it all back in and then I set off again to be cruelly met with the small brutal climbs which would reduced me to a walk again but as soon as it levelled out or we hit a descent we was back on the 7/8min mile pace.
Finally we was on the home stretch and I couldn't wait to get over that Finish line at Llangadog Community Centre and just sit down and get my body and mind back in sync with each other. We finally made it back in 25 hrs 9 mins ! That's 1 hour 9 minutes later than my target but I didn't give a flying fudge – I was buzzing! I asked how far behind 2nd place was and they said about an hour. That really puts it into perspective how hard I'd pushed in that last 15 mile but man it was worth it!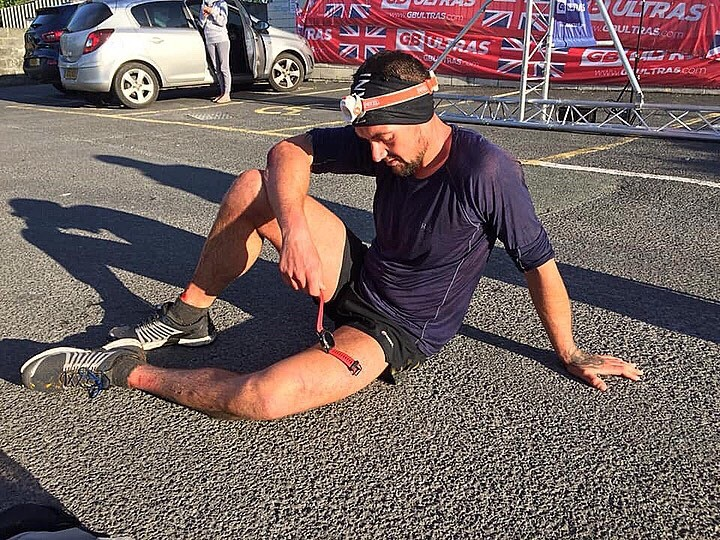 I just repeated over and over again for about a minute with my head in my hands rubbing my temples saying "that was horrrrrrible"! Haha. I'd soon forgot about it after ten minutes though when the lovely ladies at the finish waited on me hand and foot and sat me down and made me a few cups of tea and a bacon sandwich.
I loved it really though. I don't like to enter easy races and this one certainly tested me. I don't think I gave it the respect it deserved in the build up to it. I'm used to races with much less support so assumed I'd find it much easier with the lightweight pack and frequent well stocked aid stations. I think the humidity and maybe racing too hard and too much in the months prior to it had an impact on the way I felt?! Ultra Running is one big learning curve.
This was my first ever race win so I was absolutely buzzing! I won a Huge Gold trophy! A special 2 tone finishers 100 Mile Buckle and a free entry into another 100 mile #GBUltras 100 Mile event next year of my choice!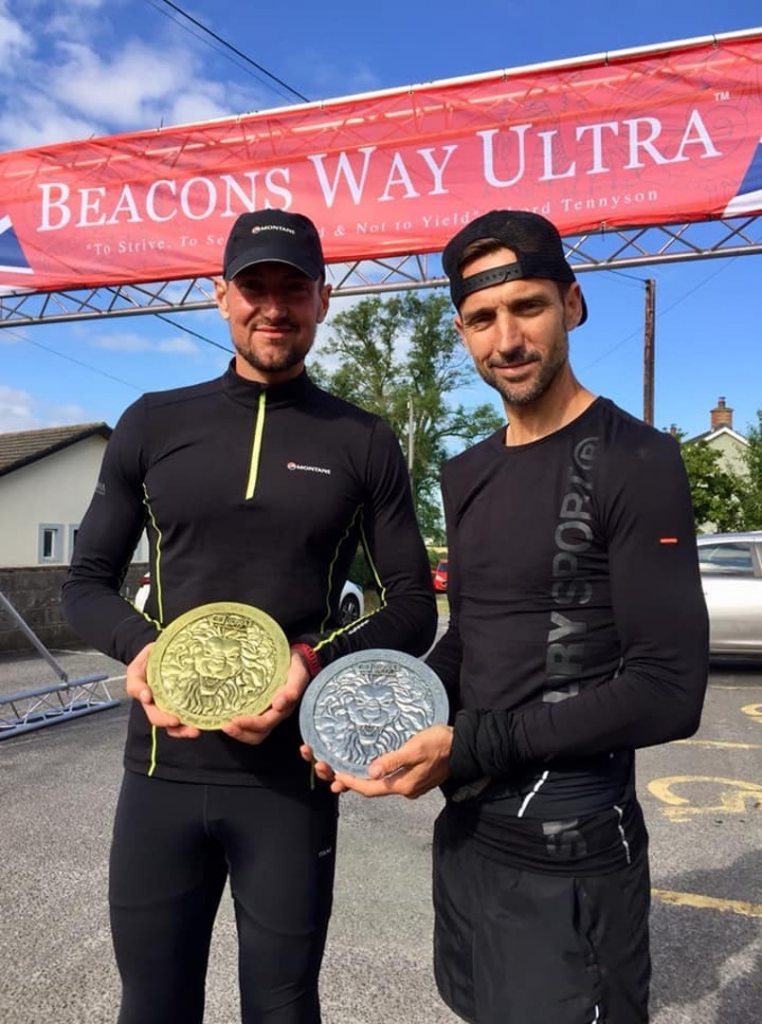 Big thanks & a massive well done to Nik for making the race a race, what an epic battle it was! Also a big thanks to all the GB Ultra organisers, Event team, volunteers' & marshals' for making the race happen. Memories that i'll never forget. If you fancy a great tough race next year I'd whack this one in your calendar!
Here's my kit list I chose to either wear, carry or have in my drop bag for versatility and any change in weather! Pre, During & Post Race – Beacons Way Ultra 100 …
Montane transition 40 Hold-all
Montane razor vest
Montane razor shorts
Montane via visor
Montane featherlight trail vest
Montane power dry glove
Montane fang zip tank
Montane fang shorts
Montane dragon pull on
Montane via gecko vest
Montane cadenza cap
Montane Allez micro hoodie
Montane primino baselayer
Montane fang zip T-shirt
Montane minimus stretch ultra jacket
Montane chief
Montane spine jacket
Montane featherlight down jacket
Montane soft flasks
#GBULTRAS BEACONS WAY ULTRA 100 MILE RACE REPORT
BY HOWARD DRACUP