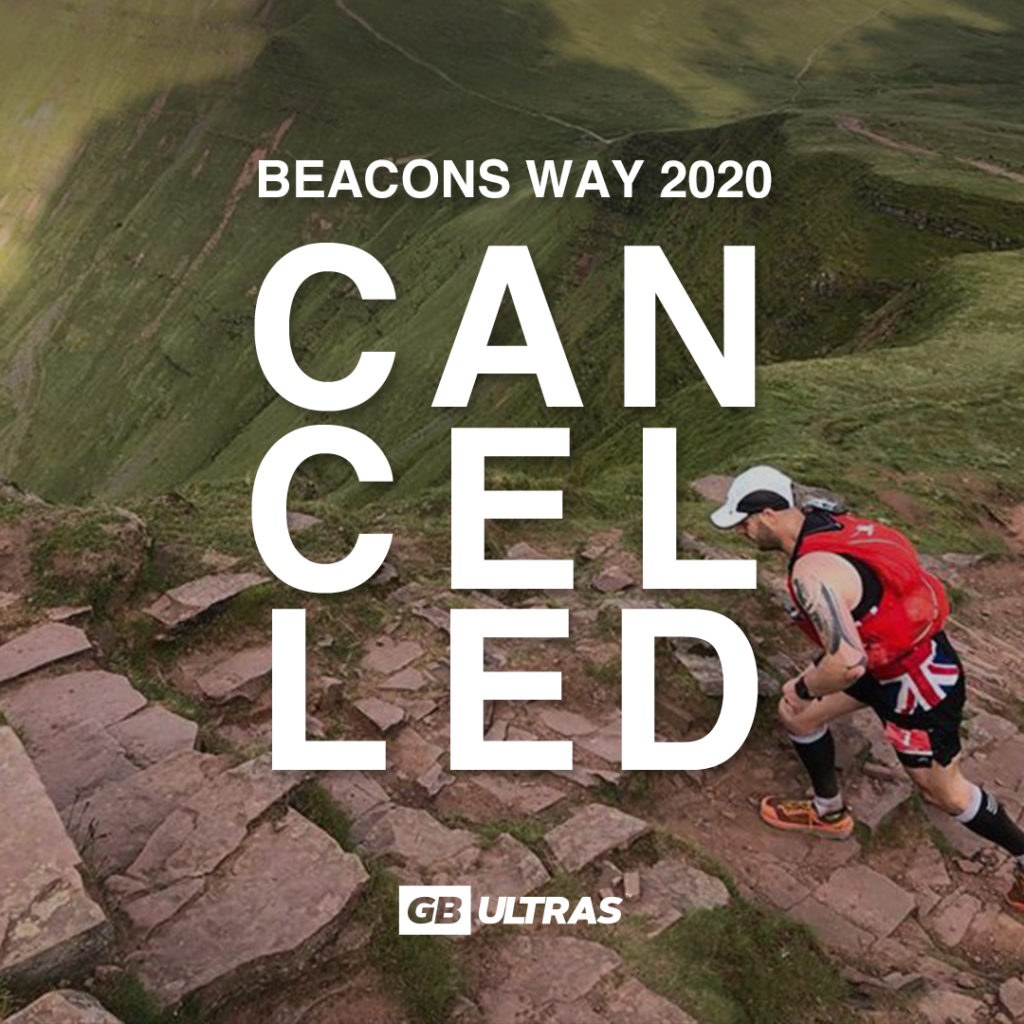 Cancellation of the Beacons Way 100 ultra-marathon on Saturday 11th July 2020 

Dear Ultra-Runner,

We hope you're well and continue to keep safe. We recently contacted you regarding the Beacons Way 100 event scheduled for Saturday 11th July 2020, offering you a range of options in the hope of holding the event with our new Covid19 procedures coming into effect throughout, helping to ensure the safety of runners, the event team and the general public.

However, although the situation regarding restrictions continues to change week by week, it's with huge regret that we now have to formally cancel the 2020 Beacons Way event. 

As the current situation evolves and improves on an almost daily basis, we're working hard behind the scenes here at GB Ultras to adapt and put in place changes that ensure we safely return to racing as soon as we can.

This will ensure that we come out of this stronger than before and can continue to provide great ultra-running events whilst maintaining the beliefs and ethos that we've embraced as an event organiser since our inception in 2015 and first events in 2016.

We're hugely disappointed to be unable to provide you with the 2nd Edition of this brilliant event and we truly appreciate your patience and trust whilst we've been working hard behind the scenes with the local communities, landowners and regional authorities involved. 

Despite this sad news, we're already looking forward to enjoying what the Brecon Beacons offers us all in 2021. Given the latest change to the situation, we'd now like to re-state your original options in regards to the Beacons Way 100 race. 

Original Options Available

Option 1: Transfer your race entry to the Beacons Way 100 in 2021. The provisional date for the event is Saturday 24th July 2021.

This is our recommended option and, by choosing this option, your place is transferred free to the new event guaranteeing your place on the start line. We hope that you choose to join us on the revised date and continue to support GB Ultras.

Option 2: Transfer your entry to any of our other GB Ultras events scheduled for 2021.

We appreciate that you've been gearing up to race this year and may already have plans for the revised date. In this case we're happy to offer you the option to join us in 2021 on another of our races. If, having looked on our website at the races we offer, you'd like to transfer your place over, just let us know your choice and we'll organise this for you. Again, this will be done for you free of charge.

Option 3: Receive a voucher equivalent to the entry fee for the 2020 event. This voucher can be used within 3 years from the original race date and can be used towards the cost of ANY EVENT which we have on our race calendar (where the event has places still available).

Having a voucher gives you the ability to take longer to think about which race you'd like to enter and gives you more choice as we look to expand our race series in 2021 and beyond. Your voucher will be valid until 11th July 2023 giving you a substantial amount of time to choose your next goal. In addition to the above, we're also continuing with our existing flexibility which gives you the ability to defer your race entry (up to 8 weeks before the event) or transfer to another runner (up to 3 weeks before the event).

If you're happy with your original option of transferring your race entry to 2021 or to another GB Ultras event, or have requested a voucher then that's brilliant – you don't need to do anything! We're looking forward to seeing you on the start line again and we appreciate your support.

A further option we're able to make at this time is the offer of a partial refund of your original entry fee:

Option 4: Partial refund of the original entry fee. At this time, we're able to offer an option of a 70% refund of the entry fee paid when you registered. We've been in ongoing discussions with various parties, venues, suppliers and contractors involved in holding the event and whilst some of the up-front costs we've incurred can be deferred, many suppliers aren't in the position to be able to refund to us the fees that we've paid to them. We'd love to see you on the revised date or at another of our events but we also appreciate that many people are experiencing real financial hardship as a result of Covid-19 and are unable to choose one of the original options.

However, before choosing this option, we'd also ask that you consider the effects that Covid-19 has had on the events industry which, ourselves included, has seen a devastating impact on many businesses. We, like many other event organisers are trying to battle through this current situation, adapt to a changed world and come out the other end despite not being able to hold any actual events so far this year together with still facing a continuing unknown picture. We are however determined to survive and continue to bring you stunning events in picturesque locations with the same passion and ethos we've had since our launch however as we hope you appreciate, every refund makes that more difficult.

If possible, we'd really appreciate it if you could transfer your entry or accept a credit. If you would like to receive a refund, we just need you to email events@gbultras.com with the following by 15th July 2020.

Subject: Beacons Way 100 refund
Details: please let us have your name and email address that you entered with.

Normally, refunds can be credited back quite quickly but in the current situation, banks are applying additional processes. We're sorry for this but will aim to get your refund back to you as quickly as possible and we'll make sure that this is no later than 28 days.

In the meantime, thanks once again to everyone who's continued to support GB Ultras during these difficult times.

It's been great to receive such supportive messages and see the community page continue to flourish with activity whilst we're prevented from fully enjoying the sport we love. We've really enjoyed seeing everyone in their GB Ultras gear that's now available and hope that the launch of the Virtual Run series helps to give you something to achieve and be part of until we can do it for real!

We're really looking forward to bouncing back as soon as we're allowed to and providing you with great races on the amazing routes that we have in Great Britain.

If you've any other questions, feel free to drop us an email at events@gbultras.com.

Many thanks & Stay Safe,

The GB Ultras Team